Anzac Profile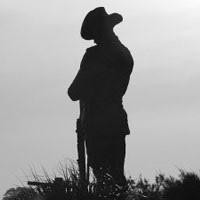 Educational Interest
Dall,
Arthur Banning
Bdr Dall Arthur Banning, 11th FAB.Returned invalided gassed and effort syndrome
1 Turton Street Guildford
| | |
| --- | --- |
| Date Enlisted | 19/10/1915 |
| Service Number | 1953 |
| Age of Enlistment | 24 years 9 months |
| Place of Enlistment | Blackboy Hill |
| Place of Birth | Terowie S.A. |
| Previous Military Experience | nil |
| | |
| --- | --- |
| Occupation | Farmer/ Grazier |
| Marital Status | Married |
| Religion | Methodist |
| Address History | I Turton Street Guildford, Darkin WA |
| Cause of Death or Invalided | |
Military History
Enlisted October 1915 at Blackboy Hill with 13th Reinforcement of the 10 Light Horse
Roll Rank Trooper
Roll Unit 13th Reinf 10 LH
Embarked per HMAT 'Borda' A30 from Fremantle 17.1.1915
He disembarked at Heliopolis Egypt and was taken on strength with a reserve regiment of the 10 LH 16.3.1915. He transferred to the 4th Division Artillery at Heliopolis 1.4.1916 and was taken on strength with the 4th DAC at Seraeum 7.4.1915 and he underwent training at Tel-El-Kebir. The following day he was transferred to the 24th Howitzer Bde and posted to their HQ. Dall was appointed Temporary Driver with the Howitzers before joining the British Expeditionary Forces (BEF) 3.6.1916 and embarking at Alexandria for France 2.6.1916. He disembarked with his Brigade at Marseilles 3.6.1916. He was taken on strength having been appointed driver and proceeded to the front line1.7.1916 and promoted to temporary Corporal the next day. Dall fought with his unit on the Bois Grenier front, where they experieced heavy enemy artillery fire and aircraft bombings. He developed a septic toe whilst in action at Flueur Baix and was withdrawn from the front line and sent to the 14th Field Ambulance Hospital 26.7.1916. Dall was discharged 17.8.1916 and rejoined his Unit, which had moved from the front line to a training area. On 25.8.1916 the Btn proceeded to Ypres and fought for several weeks at Dickebusch, where they experienced heavy rains and enemy bonbardment.
On January 25th1917, Dall was transferred to the 11th Field Artillery Brigade and was taken on strength just North of Flers.Tthey fought in heavy snow and cold at Delville Woods.(AWM4 13/38/12). Dall was transferred to the 4th Division Training School in April 17 and was promotd to Bombardier 11.4.1917 then Temporary Corporal 11.4.1917. In May, he was transferred to the 4th Division Signalling Company and taken on strength in the field 10.5.1917. In June, Dall was transferred to the 11th Field Artillery Bd and taken on strength 27.6.1917. Dall was promoted to Temporary Corporal in July. The Bde fought at Nieppe and Dickebusch where they experienced aerial bombardments and were gassed. (AWM4 13/38/19). The 11th and other Bgdes of the 4th Division fought at Ypres and experienced heavy casualties (AWM4 13/38/20). Dall received a bomb wound to his left leg 9.9.1917, was transferred to the Casualty Clearing hospital and then to Hospital at Etaples and was evacuated to Engand on the 'St Pieter de Cormick'. He was admitted into Cambridge Hospital, Aldershot. On discharge from hospital he attended St John's Wood Cadet School, from which he graduated with a commision as a cadet in the Field Artillery. In June 1918, Dall developed pneumonic influenza and was admitted to the Queen Alexander Military Hospital and again in September 1918. He also suffered heart palpitations and other problems associated with 'Effort Syndrome'. Dall was AWL from Cadet School but excused on medical grounds. He was deemed an invalid in late 1918, and sent back to Australia in December that year. He disembarked at Fremantle 1.12.1919.
Dall died tragically in a car accident on 16.7.1919, just six months after his return. It was ruled that the motor accident had been caused through a heart attack, arising from the gassing he had received whilst on service. Dall was buried at the Wagin Cemetery.
Embarked per 'Somali'
Disembarked 1.12.1919
Discharged 25.3.1919
Family Background
Arthur Banning Dall farmed and lived at darkan, where he met Eleanor Le Cornu. They were married in Wagin and lived there after Arthur's return from service. After his tragic death she moved to Guildford to her parents home, with the two children Arthur and Joyce.
Associated Images