Anzac Profile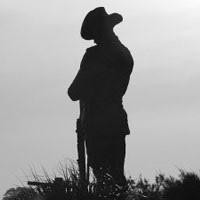 Educational Interest
Darlot,
Oswald Henry (Harry)
Captain. 1/22nd Bn. London Regiment (Queens). Returned 8.2.1920. Awarded Military Cross
| | |
| --- | --- |
| Date Enlisted | 05/03/1917 |
| Service Number | 2nd Lieutenant |
| Age of Enlistment | 22 years |
| Place of Enlistment | London, England |
| Place of Birth | WA |
| Previous Military Experience | NK |
| | |
| --- | --- |
| Occupation | Pastoralist |
| Marital Status | Single |
| Religion | Church of England |
| School Attended | Guildford Grammar School |
| Address History | Father - Henry S. Darlot deceased. Mother - Mrs G.T. Williams, Mount Street, Perth, WA |
Military History
Embarked Fremantle for England December 1914.
Roll Rank 2nd Lieut.
Roll Unit London Regiment.
Darlot enlisted with 10th London Regiment in WW1. He fought at Messines with the 1/ 22nd London Regt. (Queens) at Messines. Darlot was reported wounded in France 10.7.1917 (Daily News 14.7.1917). He was subsequently recorded as slightly wounded in France a second time (Daily News 25.6.1918.) Darlot was awarded the Military Cross (Daily News 24.10.1918) and returned to Australia in 1920.
Embarked for Australia per HT 'Mantua' 3.1.1920.
Returned/Disembarked Fremantle 8.2.1920. (Daily News 9.2.1920)
Discharged In UK 1919.
Final Rank Captain 1/22nd Bn. London Regiment.
Medical Condition NK.
Awards and Medals Military Cross, British War Medal, Victory Medal, Eligible for 1914-15 Star.
Military Cross 1918 citation
This decoration was awarded to Oswald Henry Darlot for an act or acts of exemplary gallantry during active operations against the enemy. The King has been graciously pleased to approve of the award of the Military Cross to this Officer. He led the company of headquarters details with great gallantry and skill through an intense barrage of high explosive and gas shells, and when, favoured by a thick mist, the enemy broke through on the flank, he handled the men under his command with conspicuous coolness, and protected the exposed flank of the battalion.
(Supplement to Edinburgh Gazette 13.1.1919 p26)
Notes Darlot was the only son of Henry Sydney Darlot and his wife Elizabeth. In 1914, Electoral Rolls gave his address as'Urella Station', Mingenew. WA. After the war he returned to Australia and became a pastoralist. He died at Boxhill Victoria, aged 83 years in 1975.

Information Source
Commonwealth Electoral Rolls 1914. SLWA
Daily News
Guildford Grammar School Honour Roll
https://www.forces-war-records.co.uk
Supplement to the Edinburgh Gazette 13.1.1919 p261


Mount Street. Perth. WA.