Anzac Profile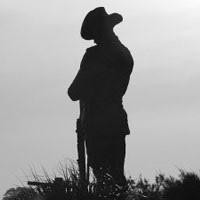 Gardiner,
Geoffrey Leighton
L/ Cpl. 10th Light Horse. SN 871. Returned 19.4.1919. Invalided
Howard Street, Perth, WA
| | |
| --- | --- |
| Date Enlisted | 09/01/1915 |
| Service Number | SN 871 |
| Age of Enlistment | 22 years 10 months |
| Place of Enlistment | Perth, WA |
| Place of Birth | Brighton, Victoria |
| Previous Military Experience | Nil |
| | |
| --- | --- |
| Occupation | Farmer |
| Marital Status | Single |
| Religion | Church of England |
| School Attended | Guildford Grammar School |
| Address History | Applecross, WA. Howard Street, Perth, WA (Father - James Gardiner) |
Military History

Embarked Fremantle per 'Argyllshire' A8 for Egypt 19.4.1915.
Roll Unit Trooper/ Private.
Roll Rank 3rd Light Horse Brigade, 10th Light Horse Regiment. 4th Reinf.
Gardiner disembarked in Egypt. He was posted to 'B' Squadron. After a brief period of training, he embarked with the MEF at Alexandria for Gallipoli. He was taken on strength from the 4th Reinf, with the 10th Light Horse Regt. in Gallipoli 4.6.1915. The 10th Light Horse saw action at the famous Charge of the Nek and at Hill 60 in August 1916. Gardiner became ill with diarrhoea in September and was transferred from the field by the 5th Field Ambulance. He was moved from the front lines to duty. Gardiner was evacuated from the Dardanelles to Mudros per HT 'Caledonia 24.12.1915 and then transported to Alexandria 27.12.1915. He was based at the Camp in Heliopolis then transferred to Serapeum 26.2.1916. The 10th Light Horse fought at Zagazig defending the railways and later fought in Sinai. In 1917, they fought as part of the Desert Column in Palestine (AWM 10th Light Horse Regt.) Gardiner was hospitalised with a debility at Marakeb 13.7.1917. He was sent to Rest Camp 1.8.1917. Gardiner was temporarily detached and sent to the 8th Mobile Veterinary Section in Egypt 14.8.1917. He was appointed L/Cpl. 19.7.1918. Gardiner returned to the 10th Light Horse 24.9.1917. He marched out to Port Said and rejoined his unit 1.8.1917. He was reported sick 14.2.1919 and listed for return to Australia as an invalid.
Embarked Kantara per HT 'Euripides' for Australia 15.3.1919.
Returned/Disembarked Fremantle 19.4.1919 as invalid.
Discharged 26.8.1919.
Final Rank L/ Cpl. 3rd Light Horse Bde., 10th Light Horse Regt.
Medical Condition Invalided (unspecified)
Awards and Medals 1914-15 Star, British War Medal, Victory Medal.

Information Source
Guildford Grammar School Honour Roll GS
NAA: B2455, Gardiner G L
AWM Embarkation Rolls- Geoffrey Leighton Gardiner
AWM 10th Light Horse Regiment

Howard St. Perth. WA.