Anzac Profile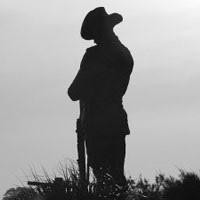 Anzac Walk Home

Educational Interest
Gardiner,
George Hollis
2nd Lieut. 2nd Divisional Unit of Supply. SN 2677. Returned 7.4.1919
43 Market Street, Guildford, WA. 'School House', 125 Helena Street, Guildford, WA. 43 Market Street, Guildford, WA
| | |
| --- | --- |
| Date Enlisted | 03/09/1914 |
| Service Number | SN 2677 |
| Age of Enlistment | 41 years 11 years |
| Place of Enlistment | Blackboy Hill, WA |
| Place of Birth | Guildford, WA |
| Previous Military Experience | 12 years Northampton Regt. and 2 years with 18th Light Horse |
| | |
| --- | --- |
| Occupation | Grocer |
| Marital Status | Married |
| Religion | Church of England |
| School Attended | Guildford State School |
| Address History | Devon Road, West Guildford, WA. (Wife - Amy Clara Gardiner), School House, 125 Helena Street, Guildford, WA. 43 Market Street, Guildford, WA (family Home). Father - Stephen Gardiner c/- 2nd Division Supply |
Military History

Embarked Melbourne per HMAT 'Berrima' A 35 for Egypt 22.12.1914.
Roll Rank Staff Sergeant.
Roll Unit 2nd Depot Unit of Supply, 11th Army Service Corps.
Gardiner disembarked in Egypt. He joined M.E.F at Alexandria and embarked for the Gallipoli Peninsula 1.4.1915. The ASC provided equipment, food and ammunition for the troops. Gardiner developed a severe skin condition, he was transferred to the 1st Casualty Clearing station on the beach at ANZAC Cove 21.8.1915-25.8.1915. He was transferred to a HS and invalided to Mudros station and then invalided to Mudros 30.8.1915. Gardiner was admitted to the 25th Casualty Clearing Station at Mudros, with dermatitis 30.8.1915. He was invalided to Malta per HS 'Scotian 10.9.1915 and admitted to St. Patrick's Hospital 10.9.1915. From this hospital he was transferred to Ghain Tuffeia Convalescent Camp 14.9.1915. Gardiner rejoined his unit at ANZAC 19.10.1915. He was promoted to T/Warrant Officer 22.10.1915 and Warrant Officer 13.1.1915. He was evacuated to Alexandria 3.1.1916. Gardiner was further promoted to 2nd Lieut.1.3.1916. He joined the BEF in Alexandria and embarked for France 23.3.1916. Gardiner disembarked at Marseilles 30.3.1916. He was promoted to Lieut. 7.6.1916. He served with the Supply Corps through the harsh winter of 1916-1917 on the Somme. Gardiner was transferred to 3rd Coy Australian Army Service Corps 23.3.1918. Following re-organisation, Gardiner was transferred to 2nd Unit of Supply 29.6.1918. He took Leave 10.8.1918– 24.8.1918, then marched out to his unit on the Somme 6.12.1918. He was promoted to 2nd Lieutenant and allocated to the 1st Australian Division Training 12.10.1917. Gardiner was transferred back to the 2nd Depot of Supply 24.6.1918. He assumed Command of the 2nd Divisional Unit of Supply 14.7.1918. Gardiner was transferred to the 6th Training Bn. for Duty on the return voyage to Australia 15.1.1919.
Embarked Devonport for return to Australia per 'Ancheses' 28.2.1919.
Returned/Disembarked Albany 7.4.1919.
Discharged/Appt. Terminated 10.6.1919.
Final Rank Lieut. 2nd Div. of Supply.
Medical Condition NK (Dermatitis on going health issue).
Awards and Medals 1914-15 Star, British War Medal, Victory Medal.
Notes his childhood homes included the Old School Quarters attached to the Guildford Primary School, then 43 Market St and then the home he shared with is wife in West Guildford until enlistment.
Photo The Queenslander Pictorial, supplement to The Queenslander, 8.7.1916
Information Source
Queensland Pictorial
Guildford Primary School Honour Roll
St Matthew's Church Honour Roll
Guildford War Memorial
NAA: B2455 Gardiner G H
AWM Embarkation Rolls- George Hollis Gardiner
Wise, H. and Co. Western Australian Post Office Directories

Devon Rd. West Guildford. WA.
43 Market St, Guildford. WA.
School House, Guildford Primary School, Helena St. Guildford .WA.


Associated Images
George Hollis Gardiner groomsman at Jones/Watson wedding behind bridesmaid (rt of the bride) Donor Gardiner Collection. Photo courtesy SGHS PH2000-252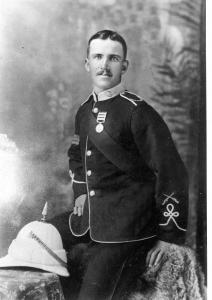 George Hollis Gardiner c1900. Photo courtesy SGHS Pictorial Collection 2000-146