Anzac Profile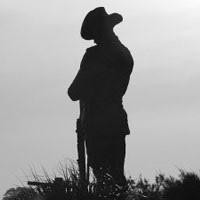 Educational Interest
Field,
Charles Ross
Captain. 2nd Army Machine Gun Coy. SN 706. Returned 8.4.1919. Mentioned in Dispatches
32 Swan Street, Guildford, WA
| | |
| --- | --- |
| Date Enlisted | 05/03/1915 |
| Service Number | SN 706 |
| Age of Enlistment | 19 years 5 months |
| Place of Enlistment | Perth, WA |
| Place of Birth | East Perth, WA |
| Previous Military Experience | 88th Infantry 9 months |
| | |
| --- | --- |
| Occupation | Civil Engineer |
| Marital Status | Single |
| Religion | Church of England |
| School Attended | NK |
| Address History | Father - Thomas Field, Lord Street, West Guildford, then to Swan Street, Guildford, WA |
Military History

Embarked Fremantle per HMAT 'Ascanius' A11 19.6.1915.
Roll Rank Sgt.
Roll Unit 7th Infantry Bde. 28th Infantry Bn, 'C' Coy.
Field disembarked in Egypt. After a brief period of training, he embarked with the MEF for the Gallipoli Peninsula, per HT 'Ivernia' 4.9.1915. He was evacuated from the dDrdenelles with all Australian troops. Field proceeded to Mudros from Gallipoli and was then transported to Alexandria 10.1.1916. Field was transferred to the 7th Bde. Machine Gun Coy. at Ferry Post 2.3.1916. He was taken on strength at Moascar 3.3.1916. Field joined BEF at Alexandria and embarked for France per 'Ansonia' 14.3.1916. He disembarked at Marseilles 21.3.1916 and He was taken on Strength with 7th Infantry Bde. Machine Gun company from 28th Bn 3.3.1916. He fought on the Somme with the MGC. He transferred to 2nd Machine Gun Coy 5.8.1916 and fought at Pozieres. Field was promoted to 2nd Lieut. 13.9.1916 and then promoted to Lieut. 30.9.1916. then moved to the 22nd Div. Machine Gun Coy 11.2 1917. Field marched into the Machine Gun Training Dept. at Belton Park, Grantham from France 13.2.1917. He proceeded overseas to France 17.3.1917 and was promoted to Captain on 7.7.1918. In February 1918 the 22nd MGC was moved into the 2nd Division Machine Gun Battalion. Field attended the 2nd Army School of Machine Gun Instruction 29.2.1917. Field was mentioned in Major General Smyth's Despatches 6.3.1918 and Haig's Despatches of 7.4.1918 and 8.11.1918 (London Gazette 31.12.1918) for his part in the Battle of Avre on the Somme and later military enegagements prior to Armistice in Novemeber 1918 . He was appointed as Adjunct 16.3.1918 and further appointed as Captain and retained his position of Adjunct. He was admitted to 20th General Hospital with tonsillitis. Field marched out of France for England 30.1.1919 and return to Australia.
Embarked Weymouth for Australia per 'Tras -Os -Montes' 31.1.1918
Returned/Disembarked 8.4.1919.
Discharged/Appointment Terminated 13.7.1919.
Final Rank Captain, 2nd Division Machine Gun Battalion
Medical Condition NK.
Awards and Medals 1914-15 Star, British War Medal, Victory Medal.
Mentioned in Major General Smyth's Despatches of 6.3.1918 (London Gazette 31.12.1918) and Sir Douglas Haig's Dispatches 7.4.1918 and 8.11.1918 (London Gazette 31.12.1918)..Three Recommendations and and 2 Awards mentioned in Despatches
Information Source
NAA: B2455, Field CR
AWM Embarkation Rolls- Charles Ross Field
AWM Honours and Awards- Charles Ross Field
London Gazette in AWM Honours and Awards
Wise, H. and Co. Western Australian Post Office Directories

32 Swan St. Guildford. WA.