Anzac Profile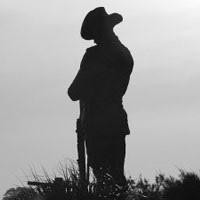 Educational Interest
Fields,
Alfred Wyndham
Trooper. 10th Light Horse. SN 399. Returned 26.11.1915. Invalided.
Swan Street, Guildford, WA
| | |
| --- | --- |
| Date Enlisted | 22/10/1914 |
| Service Number | SN 399 |
| Age of Enlistment | 25 years |
| Place of Enlistment | Guildford, WA |
| Place of Birth | Guildford, WA |
| Previous Military Experience | Nil |
| | |
| --- | --- |
| Occupation | Farmer |
| Marital Status | Single |
| School Attended | NK |
| Address History | Guildford, WA. Mother - Mrs C. Fields, Coolup, WA |
Military History

Embarked Fremantle per HMAT 'Surada' A52, for Egypt 17.2.1915.
Roll Rank Trooper
Roll Unit 10th Regt. 3rd Light Horse.
Fields disembarked at Suez with the Tenth Light Horse. He proceeded to Alexandria, joined MEF and embarked for Gallipoli 16.5.1915. The 3rd Division, including the 10th Light Horse, served in action at the Charge of the Nek and the attack on Baby 700. In this battle, 138 of the 300 Tenth Light Horsemen were killed (ANZAC Site-Gallipoli Landings) Fields was wounded in action and received a GSW to his left hand 7.8.1915 at the Nek. He was transferred by HS 'Delta' to the 1st Australian General Hospital at Heliopolis 12.8.1915. He was moved to Luna Park Hospital at Heliopolis and was diagnosed with a fractured left hand 14.8.1915. Fields was transferred to the Suez Convalescent Hospital 8.10.1915. He was listed for early return to Australia, invalided with amputated fingers from his left hand.
Embarked Suez for Australia per HS 'Aeneus' 18.10.1915.
Returned/Disembarked Fremantle 26.11.1915.
Discharged 31.10.1915.
Final Rank Trooper/ Private,3rd light Horse Brigade, 10th Light Hors Regiment 'C' Coy.
Medical Condition Invalided with amputated fingers on left hand.
Awards and Medals 1914-15 Star, British War Medal, Victory Medal.
Photograph Injured soldiers at Luna Park Hospita,l Heliopolis. 1915. AWM P00152.008 (public domain)

Information Source
Guildford War Memorial
NAA: B2455, Fields A W
AWM Embarkation Rolls- Alfred Wyndham Fields
AWM Pictorial Collection
ANZAC Site http://www.Anzacsite.gov.au/5environment/timelines/australia-gallipoli-campaign/august-1915.html
Wise, H. and Co. Western Australian Post Office Directories.

Swan St. Guildford. WA.