Anzac Profile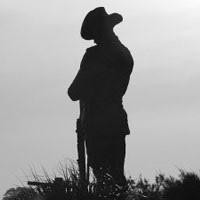 Educational Interest
Ferguson,
James Maxwell
L/Cpl. 10th Light Horse. SN R272. Died of wounds 20.3.1919 at Zagazig, Egypt. Age 26 years 11months
| | |
| --- | --- |
| Date Enlisted | 28/10/1914 |
| Service Number | SN R272 |
| Age of Enlistment | 21 years 7 months |
| Place of Enlistment | Guildford, WA |
| Place of Birth | Midland Junction, WA |
| Previous Military Experience | 4 years Cadets |
| | |
| --- | --- |
| Occupation | Farmer |
| Marital Status | Married |
| Religion | Church of England |
| School Attended | Guildford Grammar School |
| Address History | Wife - Mrs J.M. Ferguson, 16 Clifton Street, North Perth, WA |
Military History
Embarked Fremantle per 'Mashobra' for Egypt 15.2.1915.
Roll Rank Trooper/ Private.
Roll Unit 3rd Light Horse Brigade, 10th Light Horse Regiment, 'B' Squadron.
Ferguson disembarked in Egypt. He joined the MEF at Alexandria and proceeded overseas with his unit for Gallipoli. Ferguson became dangerously ill with diarrhoea. He was transferred per 'Ascanius' to Mudros, then transferred to Malta 28.5.1915. He was transported to Fulham Hospital, UK for treatment 26.9.1915. He returned to Egypt and embarked per 'Commonwealth' for 3 months change. Ferguson disembarked at Fremantle (also shown as Adelaide). He re embarked per HMT 'Morea' for Egypt 3.4.1917 as a Trooper with the 16th Reinf. of the 9th Light Horse. Ferguson disembarked at Bombay and re embarked per HMT 'Mashobra' 18.3.1917. On arrival in Egypt, he was transferred to the 10th Light Horse 8.5.1917. He became ill 30.7.1917 and was transferred to the 3rd Light Horse Field Ambulance. He was admitted to Hospital with Malaria 17.8.1918. Whilst on patrol near Zagazig, protecting the railways from rebels, Ferguson was wounded in action. He received severe GSW to is head and face 18.3.1919. He was transported by the 3rd Light Horse Field Ambulance but died of wounds received in action 21.3.1919.
Ferguson was buried at the International Cemetery at Zagazig. His remains were reinterred at Tel-el- Kebir, 40 miles NE Cairo. Today Ferguson is commemorated at Tel-el-Kebir War Memorial Cemetery, Tel-el-Kebir, North Egypt.
Final Rank L/Cpl. 10th Light Horse Regiment, 'B' Squadron.
Medical Condition Dec'd, died of wounds.
Awards and Medals 1914-15 Star, British War Medal, Victory Medal.
Information Source
Guildford Grammar School Honour Roll
Guildford Grammar School War Memorial
NAA: B2455, Ferguson J M
AWM Embarkation Rolls- James Maxwell Ferguson
AWM Roll of Honour- James Maxwell Ferguson

Clifton St. North Perth. WA.