Anzac Profile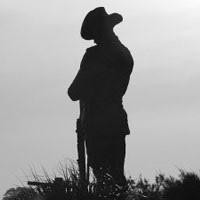 Educational Interest
Edgar,
Douglas Waldene
Bdr. 31st Bty. 8th FAB. SN 19975. Returned 8.8.1919. Awarded Military Medal
| | |
| --- | --- |
| Date Enlisted | 14/01/1916 |
| Service Number | SN 19975 |
| Age of Enlistment | 20 years 4 months |
| Place of Enlistment | Perth, WA |
| Place of Birth | De Grey Station, Port Hedland, WA |
| Previous Military Experience | 37th Field Artillery Brigade |
| | |
| --- | --- |
| Occupation | Farm Manager |
| Marital Status | Single |
| Religion | Presbyterian |
| School Attended | Guildford Grammar School |
| Address History | 'Strathalbyn', Gingin, WA |
Military History

Embarked Melbourne per HMAT 'Medic' for UK 20.5.1916.
Roll Rank Gunner .
Roll Unit 8th Field Artillery Brigade, 31st Battery.
Edgar disembarked at Plymouth 18.7.1916. He marched in to Camp 16 at Larkhill for training. Edgar was hospitalized 16.11.1916 and rejoined his unit 19.11.1916. He proceeded overseas to France via Southampton 30.12.1916. Edgar was promoted 31.1918 to T. Bdr. He received a Recomendation for a Military Medal following conspicuous bravery at Messines in 1917. The 3rd Division, including te 8th Field Artillery Brigade also fought at Broodseinde, Passchendaele, Amiens, Mont St. Quentin, and the advance to the Hindenburg Line, during their time on the Western Front.

Returned/Disembarked 10.8.1919.
Discharged 22.9.1919.
Final Rank Bombardier, 31st Battery 8th Field Artillery Brigade.
Medical Condition NK.
Awards and Medals Military Medal, British War Medal, Victory Medal.
Military Medal citation 3.6.1917.

On the 3rd June 1917 the 31st Battery, during barrage operations on that day was subjected to very heavy shell fire.. the hostile shelling caused numerous fires to break out in the camouflage screening and ammunition boxes. These man displayed conspicuous bravery and coolness under hostile fire., carting water from a ditch close by and standing on top of the pits throwing water on and outing out the fires, during the whole time of which, the Battery was being heavily shelled ….and saved 7500 rounds of ammunition and equipment which would otherwise have been sacrificed ...it is almost certain that the other battery.. would have suffered loss'.
(AWM Honours and Awards).

Information Source
Guildford Grammar School Honour Roll
NAA: B2455, Edgar D W
AWM Embarkation Rolls– Douglas Waldene Edgar
AWM Honours & Awards – D. Edgar

'Strathalbyn', Gingin. WA.