Anzac Profile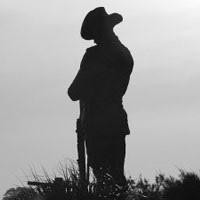 Educational Interest
Ednie-Brown,
Kenneth Erskine
T/Bdr. 28th FAB. SN 37172. Returned 17.9.1919
| | |
| --- | --- |
| Date Enlisted | 12/12/1916 |
| Service Number | SN 37172 |
| Age of Enlistment | 29 years 2 months |
| Place of Enlistment | Perth, WA |
| Place of Birth | Adelaide, SA |
| Previous Military Experience | Nil |
| | |
| --- | --- |
| Occupation | Pay Clerk (Home Affairs) |
| Marital Status | Single |
| Religion | Church of England |
| School Attended | Guildford Grammar School |
| Address History | c/- Mother - Bertha, 31 Ventnor Avenue, West Perth, WA |
Military History

To Maribyrnong Vic. with Artillery Reinf. for training as Gunner.
Embarked Melbourne per 'Port Sydney' 9.11.1917 for Egypt.
Roll Rank Gunner.
Roll Unit .19th Reinf. 28th Field Artillery Brigade.
Ednie-Brown disembarked at Suez with his Field Artillery Brigade (FA)B 12.12.1917. He entrained to Alexandria, joined the BEF and embarked for the Western Front 18.12.1917. He disembarked at Taranto 22.12.1917, then embarked for Southampton England 14.1.1918. Ednie-Brown marched in to Heytesbury 4.1.1918. After 3 months of intensive training, he proceeded overseas to France with his unit 30.4.1918. He marched into the Australian General Base Depot at Rouelles 21.5.1918. Ednie-Brown was transferred to the 4th Division Ammunition Column 9.5.1918. The 4th Division fought at the Battles of Hamel, Amiens and the Hindenburg Line, finally reaching the village of Bellenglise (AWM 4th Division). Ednie-Brown would have fought in some, if not all of these battles. He was appointed Acting Bdr. 3.12.1918 and T. Bdr. 16.1.1919. He was detached from the 4th DAC to the Australian Army Pay Corps 23.6.1919. he was listed for return to Australia and appointed Voyage Only Sergeant for the return trip
Embarked for Australia per 'Berima' 19.9.1919.
Returned/Disembarked 19.10.1919.
Discharged 17.11.1919
Final Rank T/ Bdr. 28th FAB.
Note Kenneth Ednie-Brown was the son of the noted silviculturalist and forestry expert John Ednie-Brown who became the Conservator of Forests in WA.
Medical Condition NK.
Awards and Medals British War Medal, Victory Medal.
Information Source
Guildford Grammar School Honour Roll
NAA: B2455, Ednie-Brown K E
AWM Embarkation Roll- Kenneth Erskine Ednie-Brown.
AWM 4th Division AIF

31 Ventnor Ave. West Perth. WA.