Anzac Profile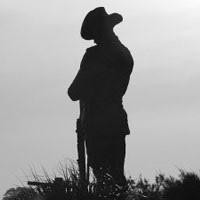 Dunn,
Percival Francis
T/ R.S.M. 10th Light Horse. SN 263. Returned 17.6.1919
Market Street, Guildford, WA
| | |
| --- | --- |
| Date Enlisted | 02/11/1914 |
| Service Number | SN 263 |
| Age of Enlistment | 34 ½ years |
| Place of Enlistment | Guildford, WA |
| Place of Birth | Rylstone, NSW |
| Previous Military Experience | 1st Light Horse NSW for 12 months |
| | |
| --- | --- |
| Occupation | Butcher |
| Marital Status | Married |
| Religion | Church of England |
| School Attended | NK |
| Address History | Wife - Mrs Gertrude Dunn, Market Street, Guildford, WA |
Military History

Embarked Fremantle per HMAT 'Mashobra' for Egypt 8.2.1915.
Roll Rank Trooper .
Roll Unit 10th Light Horse, 'B' Coy.
Dunn disembarked at Egypt 8.2.1915. He entrained to Alexandria, joined the MEF and embarked for Gallipoli 1.8.1915. The 10th Light Horse, as an unmounted regiment took part in the charge at the Nek. It is not known if Dunn participated in this action, however, he served in Gallipoli until his evacuation per HT 'Maroo' and disembarkation at Alexandria 26.12.1915. Dunn developed mumps and was hospitalized at the 4th Auxiliary Hospital at Heliopolis 9.2.1916. He was discharged to convalesce, as reported in the West Australian Newspaper (16.2.1919). Dunn returned to duty 2.3.1916. He was transferred to the 10th Light Horse at Serapeum 12.4.1916. He continued to serve in the Middle East at Palestine and Sinai. Dunn was promoted to L/Cpl 11.10.1916, to T/Cpl 14.1.1917 and Cpl 26.2.1917. He developed septic sores 22.6.1917 and was treated by the 5th Military Bde. Field Ambulance. He was promoted to T/ Squadron Quarter Master Sergeant (SQMS) 1.11.1917. Dunn was taken on strength with 10th Light Horse at Moascar 17.1.1918. He was promoted to T/ Regimental Sergeant Major (RSM) 6.7.1918. Following demobilization he was listed for return to Australia and proceeded to Port Said.
Embarked Port Said per HT 'Dorset' for return to Australia 2.4.1919.
Returned/Disembarked Australia 17.6.1919.
Discharged 16.8.1919.
Final Rank SSM, T/ RSM.
Medical Condition NK .
Awards and Medals 1914-15 Star, British War Medal, Victory Medal.
Notes Dunn moved to Kalgoorlie post war and was recorded as residing in Hannan Street in 1920. Francis died 11.6.19177 in SA and Getrude 2.5.1960 and was buried in Guildford WA.
Dunn's name is included in the Rhylstone Autograph Quilt as one of 49 soldiers who grew up in this district and citizens of the area. It is one of twelve Dunn names on the quilt. The quilt is a relic from WW1 where names were embroidered to raise funds for the war time effort. Dunn married Gertrude McKeon and was residing in Guildford, possibly following his enlistment with the 10th Light Horse in 1914.
Information Source
West Australian Newspaper
NAA: B2455, Dunn P F
AWM Embarkation Rolls- Percival Francis Dunn
Wise, H. and Co. Western Australian Post Office Directories

Market St. Guildford. WA.