Anzac Profile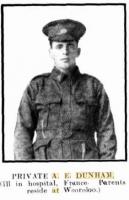 Educational Interest
Dunham,
Albert Edmund
Private. 28th Bn AIF. SN 5580. Returned 24.7.1919
51 Helena Street, Guildford, WA (mother resided with Mrs. Lacey)
| | |
| --- | --- |
| Date Enlisted | 09/03/1916 |
| Service Number | SN 5580 |
| Age of Enlistment | 33 years 6 months |
| Place of Enlistment | Perth, WA |
| Place of Birth | York, WA |
| Previous Military Experience | Nil |
| | |
| --- | --- |
| Occupation | Horse driver |
| Marital Status | Single |
| Religion | Church of England |
| School Attended | NK |
| Address History | Postal Address c/- Mrs. M Lacey, 51 Helena Street, Guildford, WA. Father - Wooroloo, WA |
Military History

Enlisted with 15th Reinf. 28th Bn
Embarked Fremantle per HMAT ' Surada' A52 for UK 26.9.1916.
Roll Rank Private.
Roll Unit 15th Reinf. 28th Bn. AIF.
Dunham disembarked at Plymouth 21.11.1916. He marched in to 7th Training Bn. After a period of training he proceeded overseas to France from Folkestone 21.12.1916. He was taken on Strength in France with 28th Bn. 18.1.1917. he fought in the trenches in the harsh winter of 1916-1917. Dunham was admitted to Hospital sick 18.1.1917. He was invalided from the field to the No.6 General Hospital in Rouen 18.2.1917. Dunham was transferred to the No.2 Convalescent Depot 28.2.1917. he was transferred to the Base Depot on recovery 8.3.1917. Dunham rejoined his unit 20.3.1917. He was admitted sick to Hospital with Trench Fever 21.5.1917. He was invalided to England per HS 'Warilda' 25.6.1917 and admitted to the Tooting Military Hospital, Tooting 26.6.1917. Dunham was discharged to Weymouth 7.9.1917. He marched in to No.3 Com. Depot Hurdcott 6.10.1917 (Pain in legs 2.11.1917). His family wrote to the military authorities, asking that he be kept from firing line or returned to Australia, as he was the main support for his family 29.1.1918. He was transferred to Sutton Veny 23.11.1918. Dunham proceeded overseas to France from Sutton Veny with the Overseas Training Bde. 20.3.1918. He rejoined his Bn. in France 24.3.1918 and marched out for return to England 28.4.1919 and return to Australia.
Embarked for Australia per HT 'Ormonde' 16.6.1919
Returned/Disembarked Fremantle24.7.1919.
Discharged 7.9.1919.
Final Rank Private 28th Bn. AIF.
Medical Condition NK (some rheumatism)
Awards and Medals British War Medal, Victory Medal.
Notes Dunham had three brothers who also served in WW1, George Alfred (SN 3262), Herbert William-died of wounds (SN 3779), William Thomas (SN 2319). his father rsided at Wooroloo and his mother Louisa Jane Dunham resided in Guildford with Mrs Lacey of Helena Street.
Photo Western Mail 4.5.1917 p28

Information Source
Western Mail
Guildford War Memorial
NAA: B2455, Dunham A E
AWM Embarkation Rolls- Albert Edward Dunham
Wise, H. and Co. Western Australian Post Office Directories. SLWA

51 Helena St. Guildford. WA.