Anzac Profile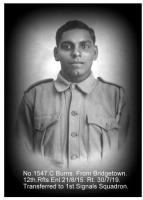 Educational Interest
Burns,
(Charles (Charlie)
Burns, Charlie. Driver. 1st Signaller Squadron, Mounted Divisions. SN 1547. Returned 30.7.1919.
| | |
| --- | --- |
| Date Enlisted | 21/08/1915 |
| Service Number | SN 1547 |
| Age of Enlistment | 18 years 10 months |
| Place of Enlistment | Claremont, WA |
| Place of Birth | Wyndham, Kimberley, WA |
| Previous Military Experience | Nil |
| | |
| --- | --- |
| Occupation | Blacksmith Striker |
| Marital Status | Single |
| Religion | Church of England |
| School Attended | Guildford Grammar School |
| Address History | Bridgetown, WA. Same as Guardian F.S. Brockman. |
Military History
Embarked Fremantle per RMS 'Mongolia' for Egypt 22.11.1915.
Roll Rank Private.
Roll Unit 10th Light Horse Regiment, 3rd Light Horse Brigade .
Burns disembarked in Egypt with the 10th Light Horse Regiment. He was transferred from the 10th Light Horse to 12th Australian Army Medical Corps 3.1.1916. Burns was promoted to Driver at Salhia 3.1.1916. He marched out of Heliopolis and entrained at Helmeik Siding with 12th Army Supply Corps 26.2.1916. He transferred to the Signal Squadron ANZAC Mounted Division at Serapeum 28.3.1916. He became ill with an ear infection at Kantara 13.7.1916. A record was made of his gallant behaviour by his commanding Officer;

Corps Commander directed that a record be made of gallant conduct of Tpr. Burns 1547..Tpr. Moffat was bathing on the evening of 11.9.1917 when he was carried out to sea. Hearing his calls, Burns swam to his assistance and with great difficulty after the life line had broken, brought in Tpr Moffat, near exhausted. The current was very strong at the time and another Trooper in this Brigade, who went out at the same time as Burns, had to be assisted in regaining the shore.
(NAA: B2455, Burns C.)
Burns was transferred to the Rest Camp at Port Said 12.10.1917. He rejoined his unit 22.10.1917. Burns returned to the Rest Camp at Kantara and then to Port Said. He was transferred to the Ship's Hospital at sea with Colic 16.7.1919.
Embarked Kantara for Australia per 'Malta' 3.7.1919.
Returned/Disembarked Melbourne 30.7.1919.
Discharged 21.9.1919.
Final Rank Driver, 1st Signallers Mounted Division.
Medical Condition NK.
Awards and Medals 1914-15 Star, British War Medal, Victory Medal.
Notes Charles Burns was an aboriginal orphan raised by F.S. Brockman since 6 years of age. He was the first Aboriginal boy to attend Guildford Grammar School and attained a military record of Gallant Conduct for saving another soldiers life. There are no records to detail if Burns stayed with the Brockman family in Guildford in their James Street and Turton Street Homes whilst attending Guildford Grammar School.
Photo Charlie Burns, photgrapher unknown, photograph courtesy Phil O'Sullivan

Information Source
AWM SS. 'Mongolia'. Postcard. Photograher unknown. Photograph Naval HIstory Collection source Australian War Memorial, Service Corps
Australian War Memorial Embarkation Roll- Charlie Burns
Guildford Grammar School Honour Roll
NAA: B2455, Burns C 1547
NAA:NAA: B883, WX8343
Photographic image Phil O'Sullivan


Bridgetown, WA.

Associated Images
SS 'Mongolia'. Postcard. Photograph source Naval History Collection AWM 30363