Anzac Profile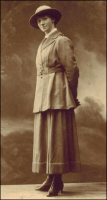 Educational Interest
Shadforth,
Annie Ellen
Nursing Sister. Australian Army Nursing Staff. Returned 11.10.1919
'St Ives' 13 Turton Street, Guildford, WA
| | |
| --- | --- |
| Date Enlisted | 25/03/1916 |
| Service Number | NK |
| Age of Enlistment | 27 years |
| Place of Enlistment | Heliopolis, Egypt |
| Place of Birth | Blakefield, Victoria |
| Previous Military Experience | Nil |
| | |
| --- | --- |
| Occupation | Nursing Sister- General Certificate |
| Marital Status | Single |
| Religion | Roman Catholic |
| Address History | 'St Ives', 13 Turton Street, Guildford WA, mother 210 Eureka St, Ballarat, Victoria |
Military History
Shadforth was born in Blakefield in Vic, to William and Bridget (nee Jones) Shadforth. She moved from Victoria around 20 years of age in early 1909. Initially Shadforth worked at the Yarloop Hospital for 2 1/2 years (SW Advertiser 14.10.1911 p5). She then enrolled as a nurse at Royal Perth Hospital, where she trained in surgical, general medical and infectious diseases. She attained the position of Charge Nurse in the Infectious Diseases Ward. After 3 years she moved to small private hospital, 'St Ives' at 13 Turton Street, Guildford, WA. She worked for 12 months before deciding to move to the work with the military (Daily News 23.6.1915 p3). Shadforth embarked at Fremantle on 25.3.1915 and disembarked in Egypt. She enlisted with the 1st Australian General Hopsital at Heliopolis. At this time there had been a determination that the staff and equipment of this unit should remove to France. Shadforth and others in this Hospital Unit, joined the BEF, entrained to Alexandria and embarked per HMAT 'Salta' . She disembarked at Marseilles 6.4.1916 and reported for duty at the 26th General Hospital at Etaples 14.4.1916. This hospital was the final point before men were transferred for medical treatment in England. A month later she was transferred to the 22nd Field Ambulance Training, this unit formed part of the 6th and 7th Brigades and were trained in emergency first aid, as they transferred patients from the first line of treatment- the Regimental Aid Posts (RAP) to the Casualty Clearing Stations. After taking leave in England, she returned to France and joined the 1st Australian General Hospital at Rouen. 8 months later she was transferred to the 10th Stationary Hopsital closer to the front line at St Omer, France 2.10.1917. This hospital was based in a large church. This work was very difficult for the nurses as men had come from the front lines. Shadforth returned to to the 1st AGH at Rouen in December 1917. She was promoted to the position of Sister 21.5.1918. She became ill with tonsillitis and developed 'Quinsy' a peritonsillar abscess, a rare and potentially serious complication of tonsillitis. She was transferred to the Convalescent Home at Cannes 31.12.1918. On recovery, she embarked for England, disembarking at Southampton 19.1.1919 and reported for duty to the 1st AGH at Sutton Veny. Shadforth again became sick with adenoid problems 18.6.1919. She was sent for a period of rest and convascence to Holland Park Auxiliary Hospital in Chelsea 3.7.1919. Shadforth was listed for return to Australia. Shadforth returned to Australia and married John Herbert Hughes in 1924, living in Ballarat and Geelong before passing away 11.08.1948.
Information Sources
Daily News
South Western Times