Anzac Profile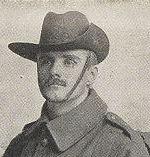 Educational Interest
Garrard,
William Leslie (Lezlie)
Garrard, William Lezlie. Lieut. 40th Infantry Bn. SN 179. Returned 31.1.1920. Awarded Military Cross
Previously teacher at Guildford Grammar School, Terrace Road, Guildford, WA
| | |
| --- | --- |
| Date Enlisted | 19/08/1914 |
| Service Number | SN 179 |
| Age of Enlistment | 32 years 5 months |
| Place of Enlistment | Brighton, Tasmania |
| Place of Birth | Launceston, Cornwall, UK |
| Previous Military Experience | 19 years with military. 3 years OC Senior Cadets. Rank at enlistment Sgt. 12th Infantry Bn.AIF. Trained at Duntroon and recommended for Commission |
| | |
| --- | --- |
| Occupation | Librarian and previous teacher at Guildford Grammar School (staff) |
| Marital Status | Married |
| Religion | Church of England |
| School Attended | NK |
| Address History | 5 Browne Street, Hobart, Tasmania (Wife - Phyllis Arabin Garrard). Previously teacher at Guildford Grammar School, Terrace Road, Guildford, WA |
Military History
Garrad disembarked in Egypt. He After a short period of training, he embarked from Alexandria with the MEF for Gallipoli per HMAT 'Devonha'. Garrard was wounded in action in the Dardenelles, receiving a gunshot wound to his right shoulder 25.4.1915. He was transferred to Hospital in Alexandria. After a period of recuperation, he was listed for return to Australia for a 'change.' Gerrard sailed from Suez 29.7.1915 per HT 'Honorata', and disembarked in Melbourne 25.8.1915. He returned to Tasmania and married Phyllis Alrain. His address was given prior to re enlistment as 2 Browne St. Hobart.Tas.After a period of 'change' Gerrard re enlisted and was allocated to the 40th Bn. 2.8.1916. He embarked from Hobart, Tas.1.7.1916. Gerrard was appointed 2nd Lieut. 1.5.1916 and Lieut. 14.9.1916.
Gerrard disembarked at Devonport 28.8.1916 and marched in to Larkhill Training Camp. The 40th Bn. underwent a period of intense training prior to embarking for the Western Front. Gerrrard proceeded overseas for France via Southampton 23.11.1916. After serving 3 months on the Western Front, Gerrard was admitted to the La Motte Officers' Rest Home in France 25.2.1917. After a 'rest' of one month, he returned to his Unit 11.3.1917. Gerrard was detached to the 3rd Army Training School for an unspecified course 22.4.1917- 29.4.1917.
In June 1917, the 40th Bn. fought their first major battle at Messines. In October that year they fought at Broodseinde Ridge. Gerrard went to the Officers' Rest Home at La Motte 28.11.1917 and returned to his Unit 6.12.1917. On December 31st, he was transferred to England to the 10th Training Bn. travelling through the Port at Bologne. Garrard marched into the training Camp at Sutton Mandeville. He as awarded a Military Cross for bravery in action in France. (London Gazette Supplement 18.1.1918). Garrad was taken on Command to the School of Instruction at Chelsea 13.4.1918. He was appointed Coy.Officer for the 9th Training Bn.30.3.1918. In August 1918, Gerrard was Court Martialled for drunkenness 29.8.1918. He was listed for return to Australia and embarked per HT 'Macedonia'.
Embarked per HT 'Macedonia' 31.10.1919 for Bombay, then transferred to HT 'Medic' 1/12/1919 for return to Melbourne.
Returned/ Disembarked Melbourne 31.1.1919.
Discharged 15.3.1920
Final Rank Lieut. 40th Bn. AIF.
Medical Condition NK.
Awards and Medals 1914-15 Star, British War Medal, Victory Medal.
Military Cross commendation:
'On the 13/14th October 1917 east of Ypres, he displayed conspicuous gallantry and initiative in action. This Officer was in charge of his company and displayed great courage and initiative under heavy fire..at a later stage he was placed in charge of a section of the Brigade line of consolidation and showed remarkable leadership and ability. Throughout he was a fine example of courage and evotion to duty.
(AWM Honours and Awards.)
Notes Gerrard was married prior to embarkation to Phyllis nee Terry on 13th May 1916 at St Georges Chutch, Battery Point, Tasmania. (The Mercury ,Tasmania) 17.6.1916)
Photos Lieut. William Lezlie Garrard. Photograph source The Tasmanian Courier 3.6.1915 insert 4
Lieut. W.L.Garrard with Office & NCOs at Brighton, Hobart, Tasmania. 1914. Photograph source AWM H15844
HMAT 'Geelong' leaving outer harbour SA. Photographer unknown, photograph source SLSA PRG 280/1/15/464
Australian soldiers training in fitness at Larkhill. Photographer unknown, photograph source AWM H00450
Anzac Soldiers marching to the front line, Ypres 1917. Photographer F. Hurley, photograph source AWM E04612
Information Source
AWM H15844. Lieut. W.L.Garrard with Office & NCOs at Brighton, Hobart, Tasmania. 1914. Photograph sources from the Pictorial Collection of the Australian War Memorial
AWM H00450. Australian soldiers training in fitness at Larkhill. Photographer unknown, photograph sourced from the Pictorial Collection of the Australian War Memorial
AWM E04612. Anzac Soldiers marching to the front line, Ypres 1917. Photographer F. Hurley, photograph sourced from the Pictorial Collection of the Australian War mMmorial
AWM Embarkation Rolls William Lezlie Garrard
AWM Honours and Awards William Lezlie Garrard
Guildford Grammar School Honour Roll
NAA: B2455, Garrard William Lezlie.
SLSA PRG 280/1/15/464. HMAT 'Geelong' leaving outer harbour SA. Photographer unknown, photograph sourced from the Pictorial Collection of the Australian War Memorial
The Mercury (Tasmania)
Associated Images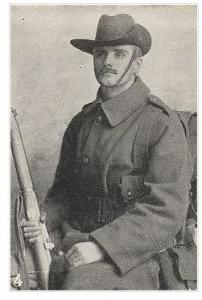 Lieut. William Lezlie Garrard. Photgraph source Tasmanian Courier 3.6.1915 insert 4
Lieut. W.L. Garrard with Office & NCOs at Brighton, Hobart, Tasmania. 1914. Photograph source AWM H15844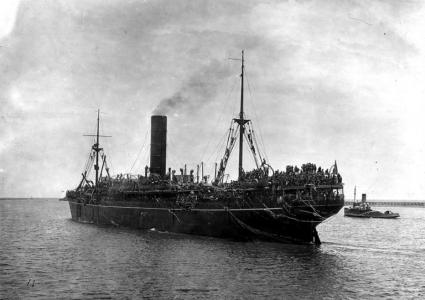 HMAT 'Geelong' leaving outer harbour SA. Photographer unknown, photograph source SLSA PRG 280/1/15/464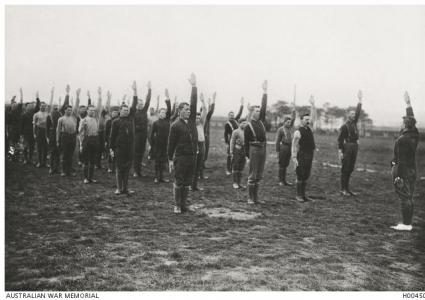 Australian soldiers training in fitness at Larkhill. Photographer unknown, photograph source AWM H00450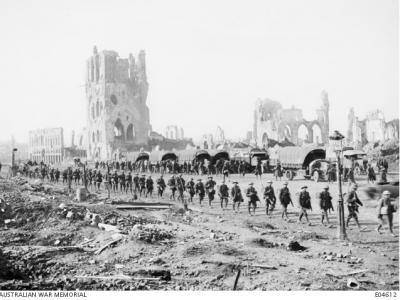 Anzac Soldiers marching to the front line, Ypres 1917. Photographer F. Hurley, photograph source AWM E04612