Anzac Profile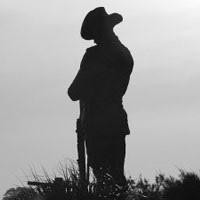 Educational Interest
Wilding,
Thomas Broun
Private. 15th Light Horse. SN 4177. Returned 17.9.1919
| | |
| --- | --- |
| Date Enlisted | 02/03/1917 |
| Service Number | SN 4177 |
| Age of Enlistment | 23 years |
| Place of Enlistment | Blackboy Hill, WA |
| Place of Birth | Mokine, WA |
| Previous Military Experience | 3 years Citizens Forces |
| | |
| --- | --- |
| Occupation | Farmer |
| Marital Status | Single |
| Religion | Church of England |
| School Attended | Guildford Grammar School |
| Address History | Mokine, WA. NOK - Mother - Emma Caroline Wilding |
Military History

Wilding enlisted as a Trooper with the 10th Light Horse, 28th Reinf. 13.3.1917. He was sent to NCO School 23.4.1917-29.5.1917. He was transferred to the 5th Camel Corps 14th Reinf. 24.9.1917.
Embarked Fremantle per HMAT 'Commonwealth' A73 for 7.11.1917
Roll Rank Private.
Roll Unit 5th Camel Corps, 14th Reinf.
Wilding disembarked at Suez 10.12.1917. He was taken on strength at the Australian Base Depot (ADB) as a Shoeing Smith at Abbassia 11.12.1917. Wilding was admitted to the Military Hospital at Abbassia with malaria 3.1.1918 to 31.1.1918. On recovery, he was taken on strength with the 3rd Battalion 11th Coy. at Res Kubri 24.2.1918. Wilding was taken on strength as a Shoeing Smith 1.7.1918. He was sent to Farrier Training School at Moascar 17.8.1918, then posted the 15th Light Horse 5.11.1918- 29.1.1919. He was listed for return to Australia in July 1919.
Embarked Suez per 'Dongala' for return to Australia 24.7.1919.
Disembarked Fremantle 17.9.1919.
Final Rank Trooper, 15th Light Horse.
Medical Condition NK.
Awards and Medals British War Medal, Victory Medal.
Notes Wilding was the son of prominent agriculturalist T.H. Wilding of Mokine who was a Member of Parliament and has a pavillion named after him the RAS show grounds at Claremont. He married Kathleen Neville Annette Hampton at St. Alban's Church, Highgate, Perth, WA. on 7.8.1928 and died 4.10.1979, age 85 years.
Photo Farrier Smith Light Horse Jordan. Photgrapher unknown, photograph sourced from AWM B02843
HMAT 'Commonwealth' A73 at Brisbane Port, Q'land 1915. Photographer unknown, photograph source AWM HO2236

Information Source
AWM B02843. Farrier Smith, Light Horse, Jordan. Photgrapher unknown, photgraph sourced form the Pictorial Collection Australian War Memorial, https://www.awm.gov.au/collection/B02843/
AWM HM2236. HMAT 'Commonwealth' A73 at Brisbane port Qland. Photographer unknown, sourced from the Pictorial Collection of the Australian War Memorial
AWM Embarkation Roll Thomas Broun Wilding
Guildford Grammar School Honour Roll
NAA: B 2455 Wilding Thomas Broun.


Mokine, WA.
Associated Images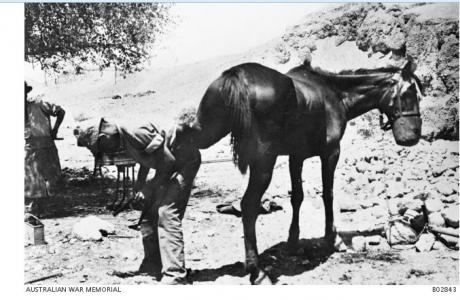 Farrier Smith Light Horse Jordan. Photographer unknown, photograph source AWM B02643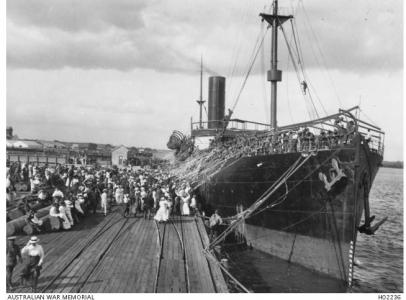 HMAT 'Commonwealth' A73 at Brisbane Port, Q'land 1915. Photographer unknown, photograph source AWM HO2236