Anzac Profile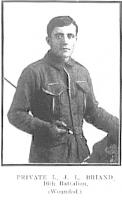 Anzac Walk Home

Educational Interest
Briand,
Leon Jean Louis
Corporal. 16 Battalion. SN 241. POW. Returned 8.8.1918. Invalided. Awarded Military Medal
7 Station Street, Guildford, WA. 'Amy Villa', 24 Swan Street, Guildford, WA. 57 East Street Guildford 57 East Street, Guildford, WA (Sister in-law Mrs E Godley)
| | |
| --- | --- |
| Date Enlisted | 15/10/1914 |
| Service Number | SN 241 |
| Age of Enlistment | 30 years 10 months |
| Place of Enlistment | Helena Vale, WA |
| Place of Birth | St Malo, France |
| Previous Military Experience | Nil |
| | |
| --- | --- |
| Occupation | Labourer |
| Marital Status | Married |
| Religion | Methodist (On re enrolment 1916 stated 'Free Thinker') |
| School Attended | NK |
| Address History | 24 Swan Street, Guildford, WA - Wife - Mrs C.M. Briand 1914, Terrace Road, East Guildford, WA - 1916, Station Street, (POD 1916) 57 East Street, Guildford, WA |
| Cause of Death or Invalided | |
Military History

Embarked from Melbourne per HMAT A40 'Ceramic' 22.12.1914.
Roll Rank Private.
Roll Unit 4th Brigade, 16th Infantry Battalion, 20th Reinforcement.
Briand disembarked in Egypt with the 16th Battalion in early February 1915. Briand was promoted to Corporal 13.5.1915. The 4th Brigade combined with the New Zealand Division. They entrained to Alexandria as part of the Mediterranean Expeditionary Force and embarked for Gallipoli, landing at ANZAC Cove on the afternoon of 25.4.1915. The 16th Battalion were involved in establishing and defending the beachhead line at ANZAC. Briand was wounded in action at Quinns Post 30.5.1915, initially this was described as slight head, however, he was later found to have fractured his skull 26.6.1915. He was transferred by HMT 'Scotian' to the No.1 General Hospital 27.6.1915. Briand was transferred to a Convalescent Camp at Helouan 9.7.1915. It was recommended that he return to Australia 'for rest'. Briand embarked from Suez per 'Themistocles' 2.9.1915 with a fractured skull. At this time his wife's address had changed to Station Street, East Guildford, WA. Ten months later, when his Bn had moved to France, he re enlisted and reported for duty with the 5th Military District HQ 1.7.1916.

Briand re embarked at Fremantle per HMAT 'Suffolk' A23 for France 9.10.1916 with 20th Reinforcement, 16th Battalion for England. He disembarked at Plymouth 12.12.1916 and was notified on his arrival of his award for gallantry- the Military Medal, for bravery at Gallipoli in defence of Quinns Post. Briand proceeded overseas to France per SS 'Arundel' from Folkestone 19.12.1916. He was taken on strength with the 16th Battalion 19.12.1916. His Battalion was fighting on the Somme. Briand was reported AWOL in field 4.1.1917. The Court Marshall awarded him a term of prison and hard labour for 2 years. This sentence was subsequently commuted to 18 months and suspended whilst he was sent to join his Battalion. Briand proceeded overseas to France and joined the 16th Battalion on the Somme at the first Battle of Bullecourt. On 11.4.1917, Briand and a small group of troops were passed two boxes of bombs from his officer. This small group made a stand against the advancing German troops. The officer was wounded and the small group stood their ground until they ran out of bombs and were overrun by enemy troops (Kenny P.F.2015). He was captured and was reported Missing in Action 11.4.1917. The Australian Imperial Force HQ notified his family that he was a POW 8.8.1917. Briand suffered serous bomb wounds to his right leg and was left without medial aid in the POW camps. He was repatriated by the Germans from his POW Camp to Holland with severe injuries 13.1.1918. Briand embarked for England and was admitted to the 1st London General Hospital with severe gunshot wound (Grenade) to his right thigh 20.1.1918. Briand was transferred to 1st Australian General Hospital Harefield/ Camberwell 28.1.1918. His 18 months of sentence was remitted 20.3.1918. Briand was listed for early return to Australia with a wounded right thigh.
Embarked from England for Australia for a change per D13 'Matutua' 20.6.1918.
Returned/Disembarked Fremantle 8.8.1918.
Discharged 6.9.1918.
Final Rank Corporal and Private, 16th Battalion.
Medical Condition Invalided, bullet wound to thigh, head wound.
Awards and Medals Military Medal, 1914-15 Star, British War Medal, Victory Medal.
Military Medal was earned for bravery whilst protecting Quinn's Post in the Dardanelles (AWM Honours and Awards).
Citation read
'for conspicuous bravery and devotion to duty in the Field whilst serving with the Australian Imperial Expeditionary Forces.'
(London Gazette 27.10.1916)

Notes National Archives Australia File includes discussion as whether Rank of Corporal was officially given.
His wife moved to 'Amy Villa,' 24 Swan Street, Guildford 1914. She later moved in with her sister Mrs. E. Godley at 57 East Street, Guildford, WA (West Australian Newspaper 22.12.1922). Briand separated from his wife and children in 1921(Swan Express 5.1.1923 p2) and she moved into her parents home at Lions Mill (Mrs E. Jone). His wife tragically died when their children were young (West Australian Newspaper 21.12.1922). Briand worked as a prospector and rigger on the goldfields (Western Argus 27.7.1937). He lost all his papers in a camp fire at Broadarrow. Records show Briand remarried in 1936, however, he and his wife separated after a couple of months with irreconcilable differences. Briand lived a transien life travelling through country towns looking for work. He lived his final years in Geraldton at the rear of the Shamrock Hotel. He was buried in an unmarked grave in the Utakarra Cemetery, Geraldton, which was marked with a headstone and memorial on 17.4.2019 in the presence of family and with support of the DVA, Geraldton Cemetery Board and Geraldton Greater City Council.
The Guildford War Memorial incorrectly details his initials as L.L.J. not L.J.L. as per his Military Records.
The home at 24 Swan Street was purchased by returned soldier William Frederick Langdon (6th Reinforcements of the 3rd Pioneer Battalion). He returned to WA in September 1919 and bought the house in December 1919- he lived here until 1966.
Photos L.J.L. Briand. Sunday Times 23.7.1915 p4.
L.J.L. Briand.Western Mail 23.7.1915 p26
HMAT 'Ceramic'. Photographer Josiah Barnes, photograph source AWM PB0284A
Russell's Top, Quin's Post 1915 AWM G01005
Bullecourt, France 1917. Photographer unknown, photograph source AWM H12360

Information Source
AWM PB0284A. HMAT Ceramic. Photographer Josia Barnes, photograph sourced from the Pictorial Collection of the Australian War Memorial
AWM G01005. Russell's Top, Pope's Hill and Quinn's Post 1915. Photographer Bean CEW, photograph sourced from the Pictorial Collection of the Australian War Memorial https://www.awm.gov.au/collection/G01005/
AWM H12360. Bullecourt, France 1917. Photographer unknown, photograph sourced from the Pictorial Collection of the Australian War Memorial
Australian War Memorial Embarkation Roll- Leon Jean Louis Briand
Australian War Memorial Honours and Awards-Leon Jean Louis Briand
Guildford War Memorial
Kenny P.F 'We Who Proudly Served' X libris https://books.google.com.au/books?isbn=1503505847
NAA: B2455, Briand L J L 241
Sunday Times
Swan Express
West Australian Newspapers
Western Argus
Western Mail
Wise, H. and Co. Western Australian Post Office Directories. SLWA

7 Station Street, Guildford, WA.
Amy Villa', 24 Swan Street, Guildford, WA.
57 East Street, Guildford, WA (wife stayed with her sister Mrs E. Godley).
Associated Images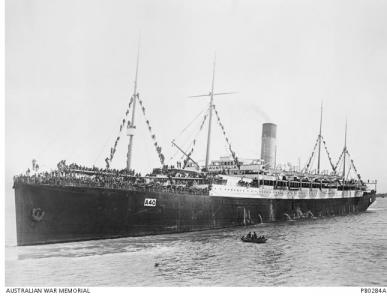 HMAT Ceramic. Photographer Josia Barnes, photograph source AWM PB0284A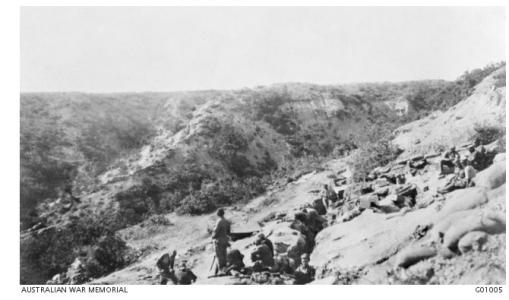 Russell's Top, Pope's Hil and Quinn's Post 1915. Photographer Bean C.E.W., photograph source AWM G01005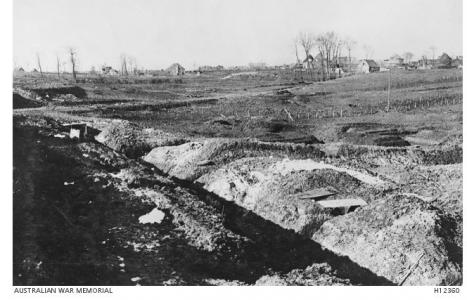 Bullecourt, France 1917. Photographer unknown, photograph source AWM H12360