Anzac Profile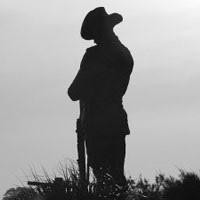 Slack,
James
2ndLieut. ANZAC Provost Police Corps. SN 7950. Returned 9.6.1917
Queens Road, South Guildford, WA
| | |
| --- | --- |
| Date Enlisted | 16/10/1915 |
| Service Number | SN 7950/ 2nd lieut |
| Age of Enlistment | 40 years 6 months |
| Place of Birth | Manchester, Lancashire, England |
| Previous Military Experience | 3 years 6 months SSM. Royal Field Artillery temp. service |
| | |
| --- | --- |
| Occupation | Soldier. Warrant Officer |
| Marital Status | Married |
| Religion | Church of England |
| School Attended | NK |
| Address History | Wife - Mary Slack, 'Nigeria', Queens Road, South Guildford, WA |
Military History

Appointed Battery Sgt. Major 16th Battery 6th Field Brigade Artillery 18.10.1915.
Embarked Melbourne per HMAT 'Persic' A34 for Egypt 22.11.1915.
Roll Rank Warrant Officer.
Roll Unit 6 Field Artillery Brigade, 16th Battery.
Slack disembarked at Suez 21.12.1915. After a period of training, he entrained to Alexandria, joined the MEF, however, the evacuation of soldiers from Gallipoli saw Slack revert to the EEF. He was promoted from WO to Brigade Sgt. Major from 1.11.1915 -15.3.1916. Slack transferred to the 5th Division of Artillery at Ismailia 16.3.1916 and was based at the 12th FAB Headquarters in Tel –el Kebir 16.3.1916. Slack was promoted to 2nd Lieut. at Serapeum and transferred to the ANZAC Provost Police Corps 10.6.1916. He embarked for UK with the BEF from Alexandria per HT 'Tunisian' 3.8.1916 and disembarked 18.8.1916. Slack proceeded overseas to France and was attached to the 4th Division HQ for traffic duties 29.7.1916. Slack was returned to England, unable to carry out the strenuous duties required of him. He reported to Admin HQ 30.3.1917. As a result of his age he was removed from his position and transferred to the Provost Police England 19.3.1917. Slack was listed for early return to Australia for 'other reasons'. Additional reports state that he was deemed unsuitable owing to his age and inability to carry out his work. Slack was listed for return to Australia in April 1917.
Embarked Plymouth per HT 'Barambah' for Australia 8.4.1917.
Returned/Disembarked Melbourne (3rd MD) 9.6.1917.
Discharged/Appointment Terminated 5.7.1917.
Final Rank 2nd Lieut. ANZAC Provost Police Corps.
Medical Condition NK – unsuitable as unable to carry out strenuous the work because of his age.
Awards and Medals 1914-15 Star, British War Medal, Victory Medal.
Information Source
Guildford War Memorial
NAA: B2455, Slack James
AWM Embarkation Roll James Slack

Queens Road, South Guildford, WA.