Anzac Profile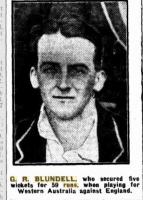 Educational Interest
Blundell,
George Robert
Lieutenant. Australian Flying Corps. SN 22019. Returned 8.1919
1 Turton Street, Guildford, WA
| | |
| --- | --- |
| Date Enlisted | 05/01/1916 |
| Service Number | SN Lieutenant (SN 22019) |
| Age of Enlistment | 19 years 8 months |
| Place of Enlistment | Perth, WA |
| Place of Birth | Perth, WA |
| Previous Military Experience | 88th Infantry Battalion |
| | |
| --- | --- |
| Occupation | Student |
| Marital Status | Single |
| Religion | Church of England |
| School Attended | Guildford Grammar School |
| Address History | Father - George R. Blundell, Havelock Street, West Perth (Secretary WA Newspapers, 1 Turton Street, Guildford, WA (1910-1913) |
Military History

Embarked Melbourne per HMAT 'Medic' A7 for England 25.8.1916.
Roll Rank Gunner.
Roll Unit 107th Battery, 23rd Howitzer Brigade.
Blundell disembarked with the 23rd Howitzer Brigade, 107th Battery at Plymouth 18.7.1916. He marched in to Larkhill with Field Artillery Brigade, to 3rd Division Trench Mortar Brigade. Blundell proceeded overseas to France with his Unit 23.11.1916. His Unit endured a harsh winter on the Somme 1916-17. Blundell was Promoted to Temp. Bombardier 3.8.1917, however, he requested to revert to rank of Gunner 30.8.1917. Blundell reported to the Australian Flying Corps School (AFC) 7.9.1917. He was quickly promoted to the rank of 2nd Lieutenant (AIF as Observer 30.10.1917). He was further promoted to Lieutenant 30.1.1918. Blundell proceeded overseas to France 12.3.1918 and was taken on strength with the 3rd Squadron Australian Flying Corps 14.3.1918. He was wounded in action, receiving injuries to his ribs and left arm 5.7.1918 (reported in West Australian Newspaper 13.7.1918). He was taken to the To 8th General Hospital Rouen with contusion of the ribs and left arm. Blundell was transferred to the UK by Hospital Ship and admitted to the RAF Hospital at Holly Hill 9.7.1918. On recovery and being deemed fit for active service, he rejoined his unit and proceeded overseas to France 13.10.1918. Following demobilization, he marched in to Weymouth 4.3.1919. Blundell was attached to the Finance Section at London HQ from the Australian Flying Corps 4.4.1919. He returned to Australia in July 1917.
Embarked Southampton per 'Boorara' for Australia 6.7.1919.
Returned/Disembarked Fremantle 8.1919.
Appointment Terminated 7.10.1919.
Final Rank Lieutenant, 3rd Squadron, Australian Flying Corps.
Medical Condition NK (wounded 5.7.1918)
Awards and Medals British War Medal, Victory Medal.
Photo G.R.Blundell. Photo source Western Mail 6.11.1924 p33,
Officers 3rd Sqdn. AFC. Premont, France Oct.1918 (Blundell Middle row 4th from Rt) Photograph source AWM H15336
HMAT 'Medic' 1914. Photographer Hood, Samuel J. Photograph source AWM H19319

Information Source
AWM H15336. Officers, 3rd Squadron AFC. Premont, France Oct.1918 (Blundell Middle row 4th from Rt) Photograph sourced from the Pictorial Collection of the Australian War Memorial
AWM H19319. HMAT 'Medic' 1914. Photographer Hood, Samuel J. Photograph sourced from the Pictorial Collection of the Australian War Memorial
Australian War Memorial Embarkation Roll- George Robert Blundell
Guildford Grammar School Honour Roll
NAA: B2455, Blundell G R 22019
West Australian Newspaper
Western Mail

62 Havelock Street, Perth, WA.
12 Bagot Road, Subiaco, WA. (Later home)


Associated Images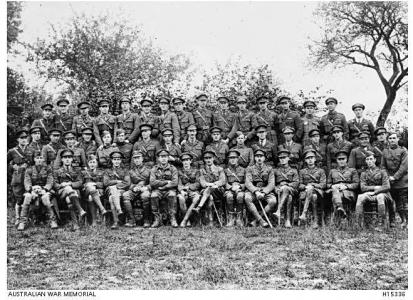 Officers, 3rd Squadron AFC. Premont, France Oct.1918 (Blundell Middle row 4th from Rt) Photo source AWM H1533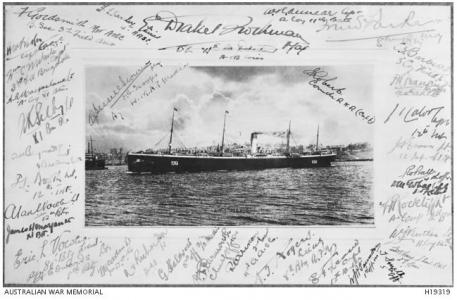 HMAT 'Medic' 1914. Photographer Hood, Samuel J. Photograph source AWM H19319