Anzac Profile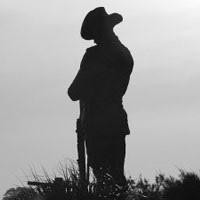 Moss,
George Frederick
2nd Cpl. 10th Light Horse. SN 1416. Returned 26.4.1919
| | |
| --- | --- |
| Date Enlisted | 08/07/1915 |
| Service Number | SN 1416 |
| Age of Enlistment | 20 years 5 months |
| Place of Enlistment | Perth, WA |
| Place of Birth | Broome, WA |
| Previous Military Experience | 25th Light Horse, Claremont, WA |
| | |
| --- | --- |
| Occupation | Clerk |
| Marital Status | Single |
| Religion | Church of England |
| School Attended | Guildford Grammar School |
| Address History | 83 Mount Street, Perth, WA. Father - George Moss, Broome, WA |
Military History

Embarked Fremantle per HMAT 'Benalla' A24 for Egypt 1.11.1915.
Roll Rank Private.
Roll Unit 3rd Brigade, 10th Light Horse Regiment, 11th Reinf.
Moss disembarked with his Regt. at Heliopolis 26.2.1916. He marched out to camp at Serapeum 28.2.1916. There is no documented history for Moss from 1916 to the early 1917. Moss was admitted to base Hospital at Belah with nasal catarrh 23.3.1917. He was admitted to hospital at El-Arish 29.3.1916 with Ozena (rare nasal condition) 29.3.1917. Moss was discharged to duty at Alexandria 14.4.1917. He was re admitted to hospital with nasal problems 21.4.1918 and transferred to Base Details then admitted to 14th AGH in Abbassia 30.4.1917. Moss was hospitalised with Rhinitis 22.5.1917. He marched out of Heliopolis for Serapeum 2.6.1917 at Gheyirch. Moss went AWOL 16.6.1917 and was awarded 7 days loss of pay. He was again admitted sick to Hospital 23.6.1917 and went AWOL in Cairo 25.6.1918. Moss was taken into Custody 28.6.1917- 3.7.1917 for taking evidence about AWOL and possession of a loaded firearm. He marched out from AIF HQ to duty at Depot Stores 13.7.1918. Moss was again hospitalised sick 1.9.1918- 17.9.1918. P.O discharge he was promoted to Extra Regimental (ER) 2/Cpl. 19.9.1918. He was listed for return to Australia.
Embarked for Australia from Kantara per HT Ulimaroo 13.3.1919.
Returned/Disembarked Fremantle 8.4.1919.
Discharged 9.7.1919.
Final Rank 2nd Cpl, 10th Light Horse Depot.
Medical Condition NK (Chronic eczema)
Awards and Medals 1914-15 Star, British War Medal, Victory Medal.
Notes Soldier changed his name to Mr B. Beauchamp post war. He wrote to the Department of Veterans Affairs and unsuccessfully tried to claim back a pistol taken from him whilst in custody in Egypt 1917.
Photos HMAT 'Benalla' A24. Photographer Josiah Barnes, photograph source AWM PB9246

Information Source
AWM PB9246. HMAT 'Benalla' A24. Photographer Josiah Barnes, photograph sourced from the Pictorial Collection of the Australian War Memorial
Guildford Grammar School Honour Roll
NAA: B3455, Moss George Frederick
AWM Embarkation Roll- George Frederick Moss

83 Mount Street, Perth, WA.



Associated Images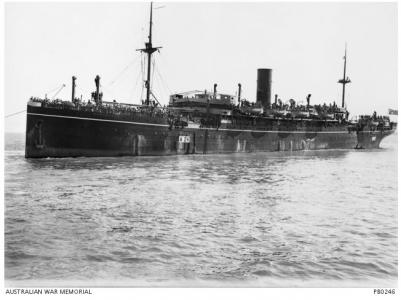 HMAT 'Benalla' A24. Photographer Josiah Barnes, photograph source AWM PB9246