Anzac Profile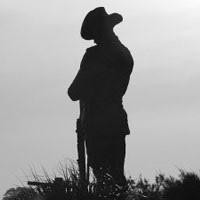 Anzac Walk Home

Educational Interest
Montgomery,
Albert Barr
Captain. 1st Reinf. 7th Bn. Worc. Regt. KIA Ypres 17.8.1917. Age 26 years.
21 Terrace Road Guildford
| | |
| --- | --- |
| Service Number | SN |
| Age of Enlistment | 24 years |
| Place of Enlistment | London, UK |
| Place of Birth | Launceston, Tasmania |
| Previous Military Experience | Lieut. in the Senior Cadets, Commonwealth Military Cadet Corps, Universal Military Training Scheme 1911. (DN 27.1.1911) |
| | |
| --- | --- |
| Occupation | Law Student/ Scholar Gray's Inn, London UK. Teacher Guildford Grammar School Staff 1911-1914 |
| Marital Status | Single |
| Religion | Church of England |
| School Attended | Perth High School |
| Address History | Father - Alexander Montgomery, Perth, WA (WA Government Geologist - State Mining Engineer) |
| Cause of Death or Invalided | |
Military History


Military History
Montgomery had previously worked as a junior staff member at Christ Church Grammar School and Guildford Grammar School after completing his school studies (Kalgoorlie Miner 25.8.1917). In 1912 he passed a matriculation for the University of London and moved to England where he commenced his stidies at the London University. In 1915, he passed a law exam (Grade 1) held by the Council of Legal Education of Inns of Court. (West Australian 19.2.1915 p6) Montgomery received a position to at Gray's Inn, London. He put his studies on hold at Grays and signed up for active service in 1916 with 1/7 Worcestershire Regiment. He took up a commissioned position as Captain. The Worcesters fought at Polygon Wood and in the third Battle of Ypres. Montgomery was in charge of 'C' platoon of 1/7W Wocestershire Regiment. On the night of the 17th, as part of the Battle of Langemarck, the 1/7 Worc's were ordered forward to assist the 145th Brigade at Steenbeek. The Allied Battalions were obstructed by a group of fortified houses, one of them being Maison du Hibout. Montgomery agreed to lead an attack on this fortified building without artillery support. The 'C' Company met with heavy fire from their front and flank. All leading men were killed or wounde , including Captain Haslehurst (KIA) and Captain Montgomery,severely wounded in action with GSWs to the head 17.8.1917. ( For detailed discussion on the Battle of Langemarck see the Worcestershire Regiment website). That same day 40 men from his Regiment were killed. Montgomery died from wounds received, the next day 18.8.1917. He was buried at Brandhoek New Military Cemetery No 3, Grave reference 1.A.5. Poperinghe, West-Vlaanderen, Belgium (WW1 Remembrance) .
Montgomery's name is also commemorated on a plaque at St. Georges Cathedral Perth, WA, that records the names of 12 fallen choristers (Organ Society).
Final Rank Captain 1st Reinf. 7th Bn. Worcestershire Regiment.
Medical Condition Deceased, died of Wounds.
Awards and Medals British War Medal, Victory Medal.
Montgomery was mentioned in Dispatches per London Gazette 18.12.1917 for services in France and Flanders whilst A/Capt. (Worcestershire Regt)
Notes He was the son of Alexander and Lisa Alberta Montgomery of Perth, Western Australia. His Father was previously the State Engineer before becoming the Government Geologist. Montgomery was born in Launceston, Tasmania, he came to WA with his parents, as his father worked in senior mining and geological positions. Montgomery attended Perth High School before commencing teaching at Christchurch and then Guildford Grammar Schools asa junior teacher
Montgomery had 4 brothers, one of whom was Capt. Alec Marion Payne Montgomery of the 28th Bn. AIF.

Information Source
AWM Commemorative Roll- Albert Barr Montgomery
Daily News
Kalgoorlie Miner
West Australian Newspaper
Guildford Grammar School War Memorial
Guildford War Memorial
Organ Society http://www.oswa.org.au/waorgans/perthstgeorgeanzac.html
St Matthew's –Fallen
Worcestershire Regt. http://www.worcestershireregiment.com/a_mid_m.php
Worcester Regiment Archives.Battle of Langemarck https://ww1ieper1917.wordpress.com/2012/09/19/part-five-the-battle-of-langemarck/
WW1 Remembrance http://ww1remembrance.blogspot.com.au/2009/08/captain-albert-barr-montgomery-17th-bn.html


Perth, WA.