Anzac Profile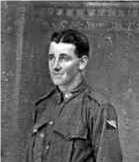 Educational Interest
McColl,
Archibald Dougald
2nd Class Air Mechanic AFC. SN 3403. Returned 12.11.1919.
| | |
| --- | --- |
| Date Enlisted | 23/11/1917 |
| Service Number | SN 3403 |
| Age of Enlistment | 27 years 9 months |
| Place of Birth | Brighton, Victoria |
| Previous Military Experience | Nil (Member of Guildford Volunteer Fire Brigade) |
| | |
| --- | --- |
| Occupation | Fitter and Turner (5 years Midland Railway Workshops) |
| Marital Status | Single |
| Religion | Baptist |
| School Attended | Perth High School |
| Address History | Austral Hall, 371 Hay Street, Perth, WA |
Military History

McColl enlisted as a Private with Australian Flying Corps (AFC) 14.1.1918. He was promoted to 2nd Class Air Mechanic at AFC Laverton March 1918 and appointed Acting Corporal 24.4.1918.
Embarked Sydney per RMS 'Osterley' 8.5.1918.
Roll Rank Voyage Only Corporal.
Roll Unit Australian Flying Corps.
McColl disembarked in Liverpool 10.7.1918. He marched in to AFC Depot Halefield Camp, Buckinghamshire 10.7.1918. McColl reverted to rank 10.7.1918. He proceeded to the Australian Post Office Base in London 2.8.1918. McColl transferred to the AFC Training Depot 17.8.1918. He marched out to REF Armament School at Uxbridge 26.10.1918 after Armistice and was granted leave to study at Kings College, London University from 26.2.1919- 2.11.1919.
Embarked for Australia per 'Port Denison' 25.9.1919
Returned/Disembarked 13.11.1919.
Discharged 6.12.1919.
Final Rank 2nd Class Air Mechanic, AFC.
Medical Condition NK.
Awards and Medals British War Medal, Victory Medal.
Notes McColl lived in the Midland District and is recorded in local papers as an active sportsman in cricket and matting. He attained his Junior Certificate in 1903 and Technical Certificate in Practical Electricity in 1908. He was a member of the Guildford Volunteer Fire Brigade and his name is recorded on their Honour Roll. The Fire Brigade was based at the Drill Hall now Garrick Theatre. McColl returned post war to Victoria (3rd MD). McColl was engaged in 1912 to Myrtle Amy Manson (Western Mail 4.5.1912 p33). His father dies 25.8.1916 (West Australian Newspapers, Family Notices 26.8.1916 p1)
Photos
RMAS 'Osterley' 1917. Photographer Josiah Barnes, photograph source AWM PB0793

Information Source
AWM PB0793. RMAS 'Osterley' 1917. Photographer Josiah Barnes, photograph sourced from the Pictorial Collection of the Australian War Memorial
AWM Embarkation Roll- Archibald Dougald McColl
Guildford Volunteer Fire Brigade Honour Roll
NAA: B2455, McColl A D
West Australian Newspaper
Western Mail

Austral Hall, 371 Hay Street, Perth, WA.
Associated Images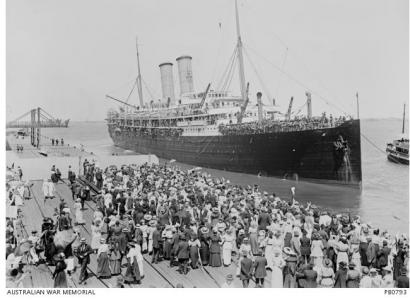 RMAS 'Osterley' 1917. Photographer Josiah Barnes, photograph source AWM PB0793