Anzac Profile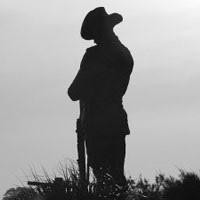 Educational Interest
Marsh,
George
Private. Discharged. No overseas service. Horse Breaker for 10th Light Horse
| | |
| --- | --- |
| Date Enlisted | 18/01/1916 |
| Service Number | SN - |
| Age of Enlistment | 24 years |
| Place of Enlistment | Perth, WA |
| Place of Birth | Guildford, WA |
| Previous Military Experience | Nil |
| | |
| --- | --- |
| Occupation | Stockman |
| Marital Status | Single |
| Religion | Church of England |
| School Attended | Bunbury State School |
| Address History | No Address, later noted as Rechibite Coffee Palace, Wellington Street, Perth, WA. |
Military History
Enlisted 8.1.1916 Perth
Age 24 years 4 months
Marital status single
Occupation Stockman
Marsh enlisted in Perth, went to Blackboy Hill and was placed in the 44th Depot as a Private 18.1.1916. He enlisted in the Field Artillery Brigade (FAB) 14.2.1916. Correspondence in the file noted that he enlisted as Private in 52nd Bn. but prior to embarkation was transferred 44th Bn. He was discharged 14.2.1916 – 'not substantially of European origin' (Aboriginal). His clothing requisite was to be returned.
Discharged 14.2.1916
Final Rank NA
Medical Condition NK
Awards and Medals Nil
Notes Marsh was an indigenous man. Correspondence on file (NAA 6.9.1956) noted 'Natives in Bn. were discharged and sent out to break horses for 10th Light Horse.'
Correspondence dated 6.9.1956 noted Marsh 'did not serve over seas' and that 'Aboriginal servicemen or part aboriginal servicemen who served overseas shall no longer be deemed a Native under the requirements of the Act.' See Charlie Burns file.
Marsh described how he came overland and brought a mob of cattle from Nullagine to Meekatharra and then took a train from Meekatharra to Perth to enlist. His father died in a mine at Marble Bar when he was 8 years old. He noted his schooling was Bunbury and that his mother died in Queensland before his father and was a half caste. He had a dark complexion described as black and stood 5ft 10inches tall. He stated he was in the 52nd Bn and due to sail, the Bn was changed to the 44th and he and 'other natives were discharged to break horses with 10 LH.'
Discharged from the AIF in February 1916 to break horses for the AIF.

Information Source
NAA: B2455, Marsh George

Rechibite Coffee Palace, Perth, WA.
Guildford, WA.