Anzac Profile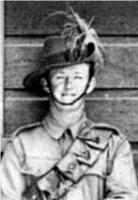 Educational Interest
Lukin,
Geoffrey Harper
Lukin, Geoffrey Harper, Trooper. 10th Light Horse. SN 117. Returned 12.6.1916. Invalided
| | |
| --- | --- |
| Date Enlisted | 05/10/1914 |
| Service Number | SN 117 |
| Age of Enlistment | 27 years 9 months |
| Place of Enlistment | Guildford, WA |
| Place of Birth | Toodyay, WA |
| Previous Military Experience | Nil |
| | |
| --- | --- |
| Occupation | Farmer |
| Marital Status | Single |
| Religion | Church of England |
| School Attended | Guildford Grammar School |
| Address History | Mother - Mrs. L.B. Lukin, Toodyay, WA |
Military History

Embarked Fremantle per HMAT Mashobra A47 for Egypt on 8.2.1915.
Roll Rank Private.
Roll Unit 3rd Light Horse Brigade, 10th Light Horse Regiment, 'A' Squadron.
Lukin disembarked in Egypt with his Regiment. He was briefly admitted to hospital with Influenza 29.3.1915 and discharged 6.4.1915. Lukin proceeded to Alexandria, joined the Mediterranean Expeditionary Force (MEF) and embarked for Gallipoli 16.5.1915. He became sick with diarrhoea 17.7.1915 and was transferred by Hospital Ship (HS) to the 3rd Light Horse Field Ambulance Hospital at Mudros 17.7.1915. Lukin was then transferred to the Convalescent Home at Mudros 21.7.1915. He rejoined his unit 29.7.1915 when they were directed to Russell's Top. He fought with his Unit 'A' Squadron at the Nek . Lukin again became sick with Diarrhoea 15.9.1915. He was transferred per Hospital Ship (HS) 'Caledonia' to the base at Mudros 7.10.1915 and admitted to the 25th Casualty Clearing Station at Mudros and then to No.3 Convalescent Hospital. Lukin was then transferred to Gibralta per HS Caledonia' and then transferred to England per HS 'Ballarat' 25.10.1915. Lukin was admitted to the 2nd Southern Military Hospital Southmead at Bristol 31.10.1915. He was diagnosed with Rheumatism 27.11.1915 and invalided to Australia 8.5.1916.
Embarked London per HT 'Themistocles' 8.5.1916.
Returned/Disembarked Fremantle 12.6.1916.
Discharged 18.9.1916.
Final Rank Trooper, A' Squadron 10th Light Horse.
Medical Condition Invalided with Rheumatism.
Awards and Medals 1914/15 Star, British War Medal, Victory Medal.
Notes Lukin was related to the Harpers and fought with them at Gallipoli in WW. (see McMullin 2012)
Photo D.Lukin .Photgraph reproduced with permission P. Sullivan.
Horses and Guns going ashore at Gallipoli 1915. Photograph source Darge Studio, photograph source AWM J03269
2nd Southern General Hospital, Southmead, Bristol. Postcard by Garrard, photgraph source Flickr

Information Source
AWM Horses and Guns going ashore at Gallipoli 1915. Photograph source Darge Studio, photograph source AWM J03269
Flickr. 2nd Southern General Hospital Southmead Bristol. Postcard by Garrard, source https://www.flickr.com/photos/brizzlebornandbred/15859567152/in/al
AWM Embarkation Roll- Lukin Geoffrey
G.H. Lukin. Photograph sourced and reproduced with permission of P. Sullivan
McMullin. R. Farewell Dear People. Scribe Pub. Pty Ltd. 2012.
NAA: B2455, Lukin Geoffrey Harper


Toodyay. WA.



Associated Images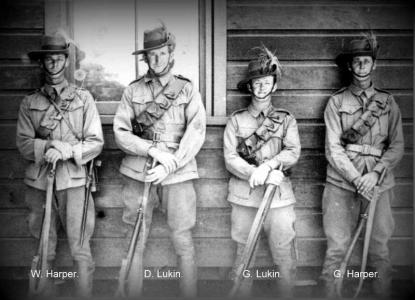 Harpers & Lukins c 1915. Photograph reproduced with permission P. Sullivan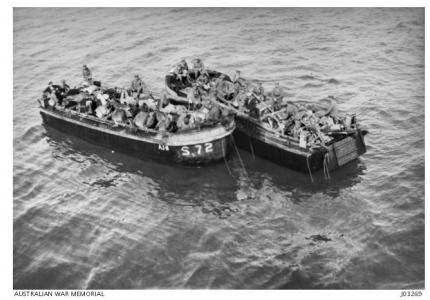 Horses and Guns going ashore at Gallipoli 1915. Photograph source Darge Studio, photograph source AWM J03269