Anzac Profile
Anzac Walk Home

Educational Interest
Barnes,
Gordon Howard
Corporal. 11th Battalion. SN 5027. KIA Villers-Bretonneux 10.8.1918. Age 32 years
10 Johnson Street, Guildford, WA
| | |
| --- | --- |
| Date Enlisted | 01/12/1915 |
| Service Number | SN 5027 |
| Age of Enlistment | 30 years 4 months |
| Place of Enlistment | Blackboy Hill, WA |
| Place of Birth | Guildford, WA |
| Previous Military Experience | 18 months Australian Infantry Forces |
| | |
| --- | --- |
| Occupation | Contractor |
| Marital Status | Single |
| Religion | Church of England |
| School Attended | Guildford State School and Guildford Grammar School |
| Address History | 10 Johnson Street, Guildford (Mother - Elizabeth and Father - William Barnes). Subiaco Road, Subiaco, WA (Wife - Edith Barnes) |
| Cause of Death or Invalided | |
Military History

To Non-Commissioned Officer School 8.12.1915.
Embarked Fremantle per HMAT 'Shropshire' A9 for Egypt 31.3.1916.
Roll Rank Sergeant 4.2.1916.
Roll Unit 16th Reinforcement, 11th Battalion.
Barnes disembarked at Suez 4.4.1916. After a short period of training, he joined the British Expeditionary Force at Alexandria, embarked for England and disembarked 24.6.1916. Barnes and his Unit marched in to the 3rd Training Battalion at Durrington. He was moved to Perham Downs. Barnes proceeded overseas to France with his 16/11 Battalion 31.7.1916. The Reinforcement joined the 11th Battalion. Although a Commanding Officer, Barnes reverted to rank 13.8.1916. He was appointed Lance Corporal on 7.9.1916.
Barnes was transferred to the 88th Field Hospital with a hernia 27.10.1916. He was transferred to England per Hospital Ship 'Cambria' and admitted to the 4th London General Hospital. He was admitted with a debility for 56 days from 15.1.1917. The 11th Battalion fought in the trenches near Ypres in Flanders, through an extremely harsh winter in early 1917. Barnes was admitted sick to hospital with Influenza and on discharge was transferred from 11th Battalion to the 70th Battalion at Wareham 23.3.1917. He returned to France and fought with his unit against the German Army as it retreated towards the Hindenburg Line. He was admitted to Hospital with mumps 15.4.1917 and transferred back to England to hospital. Barnes proceeded overseas to France 2.11.1917. He rejoined his Unit for the Third Battle of Ypres in Belgium.
Barnes was sent to Brigade School in England by the Australian Imperial Force order 11.2.1918. Barnes returned to France and his unit. They fought to stop the German Spring Offensive in 1918. He was wounded in action and admitted to 18th Casualty Clearing Station 23.6.1918. Barnes rejoined the 11th Battalion in the Field as Corporal 16.7.1918. They formed part of the Allied offensive at Amiens.
Barnes was KIA 19.8.1918. He was in a shell hole and stood up calling 'Come on Boys' when he was hit by machine gun fire (Australian War Memorial Red Cross File). He was buried the next day in the Field. After the battle this was considered an isolated grave, 1 mile WNW of Lihons and 9 miles WNW of Nesle.
His body was re-interred to the Heath Military Cemetery 2800 yards North of Harbonnieres, Plot 1, Row K, Grave 19. He was buried 1000 yards S.E. of Vauvilles. Today he is commemorated at the Heath Cemetery, Picardie, France.
Final Rank Corporal, 11th Battalion
Medical Condition Deceased, KIA.
Awards and Medals British War Medal, Victory Medal.
Notes Barnes was single on enlistment and married during his period of military service. He was recorded as father of one child in 1921. His son was also named Gordon Barnes. His widow moved to the family home in Guildford. His son was also named Gordon Barnes.
Barnes had 2 brothers who also served- Captain Charles Albert Barnes of the 11th Battalion who was KIA at Gallipoli and Lieutenant John Viveash Barnes who returned home invalided.
Photo AWM H06726
Barnes in 'Australia's Fighting Sons of the Empire.' Reproduced with permission of Hesperian Press. 2014. p79
HMAT 'Shropshire'. Photographer Hazlewood Rex. Photograph source AWM P01843.001
Road to Amiens 1918. Photographer unknown, photograph AWM E01952
Heath Military Cemetery, Harbonnieres. WW1 Western Front website

Information Source
AWM H06726. Gordon Barnes. Photograph sourced from the Photographic Collection of the Australian War Memorial
AWM P018431. HMAT 'Shropshire'. Photographer Hazlewood Rex. Photograph sourced from the Pictorial Collection of the Australian War Memorial
AWM E01952. Road to Amiens 1918. Photographer unknown, photograph sourced from the Pictorial Collection of the Australian War Memorial
Australian War Memorial Embarkation Roll- Gordon Howard
Australian War Memorial Red Cross File- Gordon Howard Barnes
Australian War Memorial Roll of Honour- Gordon Howard Barnes
'Australia's Fighting Sons of the Empire.' Palmer and Ashworth (1922). Facsimile Edition published by Hesperian Press, Victoria Park.WA. 2014
Guildford Grammar School Honour Roll
Guildford Grammar School War Memorial
Guildford Primary School Honour Roll
Guildford War Memorial
NAA: B2445, Barnes G H
St Matthew's Honour Roll
St Matthew's– Fallen
WW1 Western Front. Heath Military Cemetery. http://www.ww1westernfront.gov.au/mont-st-quentin/heath-cemetery.php#!lightbox-uid-1
Wise, H. and Co. Western Australian Post Office Directories. SLWA

10 Johnson Street, Guildford, WA. (Mother)
164 Subiaco Road, Subiaco, WA. (Wife)

Associated Images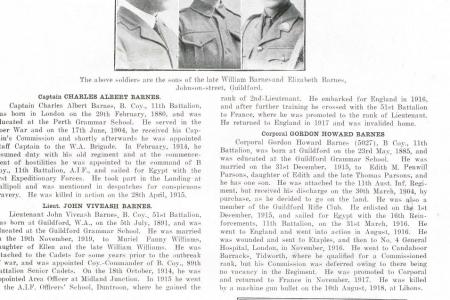 Barnes Brothers Charles, John, Gordon. Photograph reproduced with permission of Hesperian Press 2014 p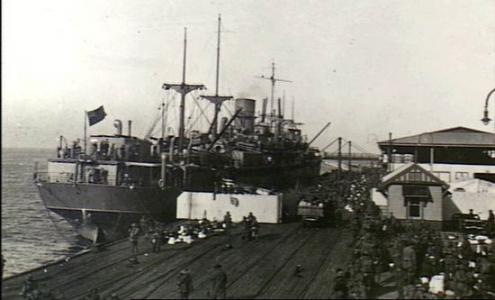 HMAT 'Shropshire'. Photographer Hazlewood Rex. Photograph source AWM P01843.001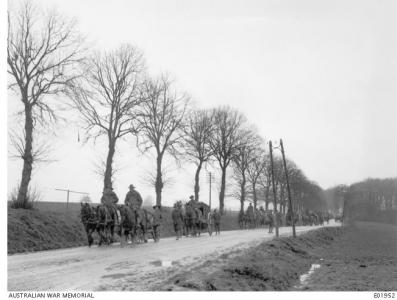 Road to Amiens 1918. Photographer unknown, photograph AWM E01952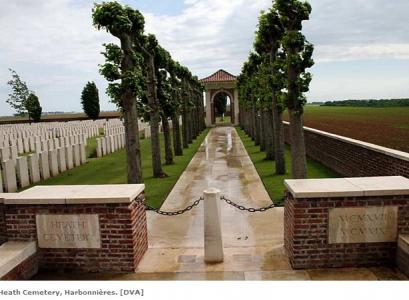 Heath Military Cemetery, Harbonnieres. Photograph source WW1 Western Front websit