Anzac Profile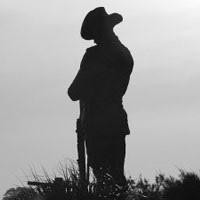 Educational Interest
Green,
Leonard Thomas (Len)
Green, Leonard Thomas. Private. AIF Depot. SN. Died of Illness Fremantle 11.1.1918. Age 19 years. No Active Service
| | |
| --- | --- |
| Date Enlisted | 17/11/1917 |
| Service Number | SN |
| Age of Enlistment | 18 years 10 months |
| Place of Enlistment | Geraldton, WA |
| Place of Birth | Stafford, England |
| Previous Military Experience | Nil |
| | |
| --- | --- |
| Occupation | Farmer |
| Marital Status | Single |
| Religion | Church of England |
| School Attended | Guildford Grammar School |
| Address History | Marine Terrace, Geraldton. NOK Ellen Green, Gregory Street, Geraldton, Pte. 17.11.1917 |
| Cause of Death or Invalided | |
Military History

Green had a past history of asthma and rheumatism. He trained at Blackboy Hill Training 3 Depot. He was hospitalised at the Clearing Hospital Blackboy Hill with acute pneumonia 4.1.1918 and was transferred to Fremantle Hospital 6.1.1918.
Green Died of disease with pneumonia and cardiac failure at Fremantle Hospital 11.1.1919. He was buried at Narra Tarra Cemetery, Narratarra, WA , GRM/6 (also recorded as buried at the Anglican Cemetery Geraldton in Geraldton Guardian).
Final Rank Private. Depot Bn. AIF
Medical Condition Dec'd died of illness prior to embarkation.
Awards and Medals NA
Note Leonard's parents Mr and Mrs Frank Green were the Mayor and Mayoress of Geraldton at the time of his death (Geraldton Guardian 12.1.1918). His Memorial Scroll and Plaque sent to parents. Leonard was buried in the Anglican Cemetery at Geraldton. Military records indicate he was buried an Narra Tarra a property previously owned by his mother and step father, however, this is not backed by documentary evidence.
Photos No. 8 General Hospital Fremantle 1915 Photograph donor A.R. Box, photograph source AWM H03507
L.T. Green. Image source Geraldton Guardian 15.1.1918 p2

Information Source
AWM H03507. No. 8 General Hospital Fremantle 1915 Photograph donor A.R. Box, photograph sourced from the Pictorial Collection of the Australian War Memorial
AWM Roll of Honour Leonard Thomas Green
Geraldton Guardian 12.1.1918 p2, 15.1.1918 p2
Guildford Grammar School Honour Roll
Guildford Grammar School War Memorial
NAA: B2455 Green L T


Marine Tce., Geraldton. WA.
Associated Images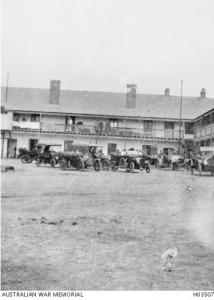 No. 8 General Hospital Fremantle 1915 Photograph donor A.R. Box, photograph source AWM H03507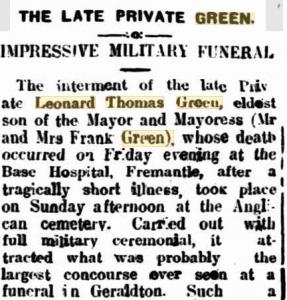 L.T. Green. Image source Geraldton Guardian 15.1.1918 p2