Anzac Profile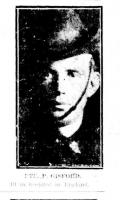 Educational Interest
Gaisford,
Percy
Private. 51st Bn. SN 2651. Returned 8.4.1918. Invalided
Queens Road, South Guildford, WA
| | |
| --- | --- |
| Date Enlisted | 08/06/1916 |
| Service Number | SN 2651 |
| Age of Enlistment | 21 years 4 months |
| Place of Enlistment | Perth, WA |
| Place of Birth | Fremantle, WA |
| Previous Military Experience | 5 months with 89th Cadet Bn |
| | |
| --- | --- |
| Occupation | Millhand |
| Marital Status | Single |
| Religion | Congregational |
| School Attended | Guildford State School |
| Address History | Queens Road, South Guildford, WA |
Military History
Embarked Fremantle per 'Suffolk' A23 for England 10.10.1916.
Roll Rank Private.
Roll Unit 6th Reinf. 51st Bn. AIF.
Gaisford disembarked at Plymouth with the 51st Bn. 2.12.1916. He marched into camp with his Bn. for training. Gaisford proceeded overseas for France, per HMAT 'Princess Victoria' via Folkestone 16.12.1916. He was taken on strength from the 6th Reinf. 1.1.1917. Gaisford contracted mumps and was admitted to the 26th Stationary Hospital at Rouen 16.1.1917. He marched in to Base Depot 8.2.1917 and rejoined his unit 17.2.1917. The 51st Bn. fought in the 3rd Battle of Ypres in Belgium.(AWM 51st Bn) Gaisford was wounded in action in the field, with a severe GSW to his Left leg 15.7.1917. He was transferred by HS 'St. George' to England. Gaisford was admitted to the University Hospital at Southampton. His left leg was amputated at the thigh (mother notified of amputation) (West Australian Newspaper 22.8.1917). Gaisford was then transferred to the 2nd, then 3rd Auxiliary Hospitals in Dartford and Southall for rehabilitation. He was discharged to the Depot at Southall and listed for return to Australia as an invalid 15.2.1918.
Embarked Plymouth per HS 'Llanstephen Castle' for return to Australia 15.2.1918.
Returned/Disembarked Fremantle 8.4.1918.
Discharged 15.2.1918.
Final Rank Private 51st Bn. AIF.
Medical Condition Invalided, amputee.
Awards and Medals British War Medal, Victory Medal.
Notes Gaisford was one of 2 brothers who enlisted in WW1.
Photo Sunday Times 8.4.1917 p6S., The Sun 15.4.1917 p6

Information Source
The Sun
Sunday Times
West Australian Newspaper
Guildford Primary School Honour Roll
St Matthew's Church Honour Roll
Guildford War Memorial
NAA: B2455, Gaisford P
AWM Embarkation Rolls- Percy Gaisford
Wise, H. and Co. Western Australian Post Office Directories. SLWA

Queens Road, South Guildford. WA.