Anzac Profile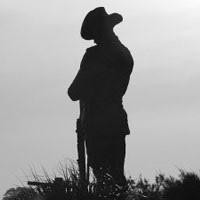 Educational Interest
Frizzell,
William George
Gunner. 5th Div. Artillery HQ. SN 1813. Returned 14.11.1918
| | |
| --- | --- |
| Date Enlisted | 19/08/1914 |
| Service Number | SN 1813 |
| Age of Enlistment | 19 years 3 months |
| Place of Enlistment | Blackboy Hill, WA |
| Place of Birth | Guildford, WA |
| Previous Military Experience | 38th Battery Field Artillery and still serving |
| | |
| --- | --- |
| Occupation | Newsagent |
| Marital Status | Single |
| Religion | Church of England |
| School Attended | Guildford State School |
| Address History | Father - John Frizzell, Guildford Road, Belmont, WA |
Military History

Embarked from Fremantle 29.9.1914 with 6th Battery FAB. for Brisbane.
Embarked from Australia for Egypt 26.10.1914.
Roll Rank Driver.
Roll Unit 3rd FAB.
Frizzell disembarked in Egypt with the 3rd Field Artillery Brigade. He joined the MEF at Alexandria and embarked for Gallipoli 4.4.1915. The 3rd FAB assisted in covering the landing at Gallipoli in April 1915 and fought in many actions, including the Battle of Lone Pine (AWM 1st Division) He was evacuated to Alexandria and struck of strength. Frizzell transferred to the 2nd Field Artillery Brigade (FAB )at Tel-el-Kebir 4.1.1916, then to the 4th Div. Artillery 27.2.1916, and was allotted to the 23rd Battery 9.3.1916. Frizzell joined the BEF at Alexandria and embarked for France 22.3.1916. He disembarked at Marseilles 28.3.1916. His Bde. was sent to Armentieres to acclimatise to conditions on the Somme (Wikipedia 1st Division). Frizzell was transferred to 21st FAB 15.5.1916. The Artillery of the 1st Division fought at Pozieres in 1916. Frizzell transferred to the 1st Brigade 24.1.1917, then to the 5th Division Trench Mortar Brigade 1.4.1917. He requested to move from his position of Driver to that of Gunner. In September 1917, he transferred to 5th Division Artillery HQ 4.9.1918. Frizzell proceeded to England for leave and returned to Australia on Transport Duty.
Embarked Transport Duty from UK to Australia per HT 'Dover' 24.9.1918. Departed Suez 30.10.1918.
Returned/Disembarked Fremantle 14.11.1918.
Discharged 13.1.1919.
Final Rank Gunner, 5th Divisional Artillery Head Quarters.
Medical Condition NK.
Awards and Medals 1914-15 Star, British War Medal, Victory Medal.
Notes served in continuous fulltime service to WW 2 with the CMF.
Information Source
Guildford Primary School Honour Roll
St Matthew's Honour Roll
Guildford War Memorial
1st Division AIF http://en.wikipedia.org/wiki/1st_Division_%28Australia%29
NAA: B2455, Frizzell W G
AWM Embarkation Rolls- William George Frizzell
Wise, H. and Co. Western Australian Post Office Directories

Guildford Road, Belmont. WA.