Anzac Profile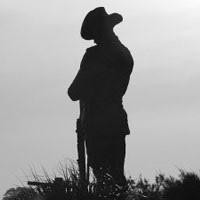 Educational Interest
Everingham,
Reginald Bouchier
Everingham, Reginald Bouchier, Sergeant. 10th Light Horse. SN 2188. Returned 15.2.1918. Invalided
| | |
| --- | --- |
| Date Enlisted | 22/12/1915 |
| Service Number | SN 2188 |
| Age of Enlistment | Age 23 years 7 months |
| Place of Enlistment | Perth, WA |
| Place of Birth | Dongara, WA |
| Previous Military Experience | Nil |
| | |
| --- | --- |
| Occupation | Station hand |
| Marital Status | Single |
| Religion | Church of England |
| School Attended | Guildford Grammar School |
| Address History | c/- sister Edenhill, Bridgetown, WA. Everingham worked for J & C Butcher at Meeberrie Station, Yalgoo, WA |
Military History

Embarked Fremantle per 'Ulysses'A38 for Egypt 1.4.1916.
Roll Rank Private /Trooper.
Roll Unit 10th Light Horse Regt.
Everingham disembarked at Suez with the 10th Light Horse. He was taken on strength with 3rd Light Horse Bde. 26.4.1916. Everingham was promoted to Temp/ Sgt. 2.12.1916. The 10th Light Horse fought against the Ottoman Army in their advance on Suez Canal and fought the Turks in Sinai (AWM 10 LH)
Everingham marched in to the ANZAC Training Centre and Details Camp 2.1.1917. He was transferred to the Australian HQ in Moascar 22.12.1916. He joined the 3rd Light Horse Regiment and reverted to rank 26.5.1917. Everingham was transferred back to the 10th Light Horse 9.6.1917. He was admitted to Hospital sick 27.6.1917and 26.11.1917. He was hospitalised with a debility and later with Chronic Bronchitis 4.7.1917. He developed boils/ fundulitis 11.11.1917. His ill health continued to decline 19.11.1917. Everingham was listed for early return as an invalid with bronchitis 18.12.1917. (reported Daily News 23.3.1918).
Embarked Suez for Australia per HMAT 'Ulysses' A38 18.12.1915.
Returned/Disembarked 15.2.1918.
Discharged NK.
Final Rank Trooper, 10th Light Horse Regt.3rd Brigade.
Medical Condition Invalid-Debility, Chronic Bronchitis.
Awards and Medals British War Medal, Victory Medal.
Notes R.B. Everingham was the only son of Canon Everingham. (Daily News 23.3.1918). The Canon was Rector of St. Matthew's Church from 1902 to his death in 1912. His wife predeceased him by 10 weeks and their names are commemorated on a marble tablet in the church. Everingham's name was also recorded as Reginald Boucher.
Information Source
Daily News
Guildford Grammar School Honour Roll
St Matthew's Honour Roll
NAA: B2455, Everingham R B
AWM Embarkation Rolls – Reginald Boucher Everingham

Edenhill and Yalgoo. WA.