Anzac Profile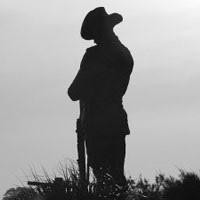 Educational Interest
Drummond,
Norman Brougham
Bdr. 36th Heavy Artillery Group. SN 294. Returned 8.6.1919. Invalided
| | |
| --- | --- |
| Date Enlisted | 01/06/1915 |
| Service Number | SN 297 |
| Age of Enlistment | 29 years |
| Place of Enlistment | Fremantle, WA |
| Place of Birth | Broken Hill, NSW |
| Previous Military Experience | Royal Australian Garrison Artillery, 2 years 2 months |
| | |
| --- | --- |
| Occupation | Soldier |
| Marital Status | Single |
| Religion | Church of England |
| School Attended | Guildford Grammar School |
| Address History | Artillery Barracks Fremantle. NOK - parents Osborne, WA |
Military History

Drummond joined the Artillery in WA and entrained for Melbourne, to train with the Siege Brigade.
Embarked Melbourne per 'Orsova' for England 17.7.1915.
Roll Rank Gunner.
Roll Unit Siege Artillery Brigade 1st Reinf. 54th Battery.
Drummond disembarked in England for a period of training at Taunton. He was transferred from the 54th Heavy Artillery Battery to the 55th Battery heavy Artillery Battery 1.9.1915 as a Gunner. He proceeded overseas to France and disembarked at Boulogne 27.2.1916. Drummond was detached from the 55th Heavy Artillery Battery, to the attend training at the Siege Artillery Park France 29.11.1916. He attended a Signallers School 16.12.1916 and was promoted to Acting Bdr.4.3.1917 and Bdr. 28.3.1917. Drummond was wounded in action from gas poisoning/ laryngitis 22.3.1918. He was taken to the 2nd Casualty Clearing Station and transferred to the 7th General Hospital at St. Omar. He rested at the 7th Convalescent Depot 4.4.1918 before being discharged to Base Depot at Ecualt. Drummond marched in to Base depot at Havre 8.4.1918 and rejoined his Unit the 2nd Siege Battery 36th Heavy Artillery Group 1.6.1918. He was detached to the 2nd Army Signal School 6.7.1918. He was hospitalised with scabies 27.9.1918 and 4.10.1918. Drummond fought in the trenches on the Western Front and succumbed to influenza 18.10.1918. He was promoted to T/Sgt. 6.2.1919. Drummond proceeded back to England for demobilization 10.3.1919. He disembarked at Weymouth and marched in to the No.2 Training Bde. at Codford.
Embarked for Australia per 'Runic' 27.4.1919.
Returned/Disembarked Fremantle 8.6.1919.
Discharged 22.8.1919.
Final Rank Bombardier 36th Heavy Artillery Group.
Medical Condition Invalided. Deemed 40% capacity on arrival in Fremantle after gassing
Awards and Medals. British War Medal, Victory Medal.
Notes Drummond was not eligible for the 1914-15 Star as did arrive in theatre of war until 1916.

Information Source
Guildford Grammar School Honour Roll
NAA: B2455, Drummond N B
AWM Embarkation Rolls- Norman Brougham Drummond

Artillery Barracks, Fremantle. WA.