Anzac Profile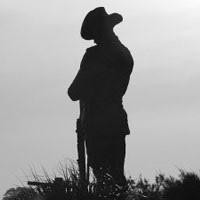 Anzac Walk Home

Educational Interest
Brockman,
Geoffery Slade
Major. 9th Field Coy Engineers. Returned January 1920. Awarded Military Cross.
Market Street, Guildford, WA. (childhood homes) 143 James Street, Guildford, WA. 11 Turton Street, Guildford, WA.14 Market Street, Guildford, WA
| | |
| --- | --- |
| Service Number | SN /Appointment Major |
| Place of Birth | Caversham, WA |
| Previous Military Experience | 2nd Field Coy Engineers |
| | |
| --- | --- |
| Occupation | Civil Engineer |
| Marital Status | Single |
| Religion | Church of England |
| School Attended | Guildford Grammar School |
| Address History | Father - Frederick Slade Brockman, Bridgetown, WA. Mother - Market Street, Guildford, WA |
Military History

Embarked at Fremantle per HMT A47 'Mashobra' 8.2.1915.
Roll Rank Trooper.
Unit Rank 3rd Light Horse Bde, 10th light Horse Regt. 'A' Coy
Brockman disembarked at Alexandria in March 2015. He entrained from Cairo to Mena Camp and then to Heliopolis for training for Gallipoli. He embarked at Alexandria with MEF per HT 'Lutzow' proceeded to the Dardanelles. He was present at the landing at ANZAC Cove. Brockman was promoted to Lieut. with the Australian Engineers in 4.8.1915. (Letter in WAN 9.10.1915) (WAN 16.9.1916) He was wounded in action at Gallipoli and was transferred by HS to Malta, then to England. He disembarked at Southampton and was transferred to Wandsworth Hospital. Brockman received a Meritorious Service Award for his action at Lone Pine in Gallipoli. On recovery he embarked per 'Ionic' from UK for Alexandria, however, his arrival coincided with the evacuation of Anzacs from Gallipoli. His ship returned to Cairo and he commenced training at Tel-el-Kebir. Brockman joined the BEF at Alexandria and embarked for Marseilles with the 9th Field Engineers. He married Alice Milne in England whilst on leave in 1917. His wife and infant son died 23.10.1918 (WAN 10.5.1919).
Brockman was placed in Command of the 9th Field Coy. in 1917-1918 as Major.
Embarked UK per HMS 'Mantua' for Australia December 1919.
Returned/Disembarked Fremantle 3.1.1920.
Appointment Terminated 8.5.1920.
Final Rank Major, 9th FCE. 'D' Coy
Medical Condition NK.
Awards and Medals 1914-15 Star, War Medal, Victory Medal. Military Cross( WAN 10.5.1919)
Mentioned in Despatches
Meritorious Service Award for service on the 6/ 7th August 1915 at Lone Pine:

'Opened up communications between B6 and B8 to Lone Pine and on the following night erected a barbed wire entanglement. On both occasions his work was most valuable'.


Notes Brockman married Henrietta Jull at Guildford. WA. 18.1921 (Henrietta Jull was a Dr of medicine who played in a significant role in the history of WA medicine)
G .Brockman applied with fellow ANZAC and Light Horseman, Lieut. Playne for a Commission in the Royal Fusiliers. The commission was offered to both men after they had accepted the position of Lieut. with the Australian Engineers. Playne was subsequently killed at Gallipoli (WAN 9.10.1915)
The family lived at 115 James (Mangles St up to 1898 and moved to Turton St 1899- 1910) Their mother was at 14 and 34 Market St after the war.

Information Source
West Australian Newspaper
AWM Honours and Awards Brockman G S
NAA: B884, W108
Drake-Brockman, G., 'Turning Wheel'. Paterson, Brokensha Pty. Ltd. Perth. WA. 1960
Wise, H. and Co. Western Australian Post Office Directories


Market St. Guildford. WA. ( (childhood homes)
143 James St. Guildford WA.
11 Turton St. Guildford, WA.
14 Market St. Guildford. WA.