Anzac Profile

Educational Interest
Cooke,
Lionel Ernest
2nd Lieutenant, 33rd Australian Engineer, then Imperial Flying Corps. Returned
| | |
| --- | --- |
| Date Enlisted | 30/06/1915 |
| Service Number | SN |
| Place of Birth | South Australia |
| Previous Military Experience | Cadets |
| | |
| --- | --- |
| Occupation | NK |
| Marital Status | Married |
| Religion | Church of England |
| School Attended | Guildford Grammar School |
| Address History | Wife - Mrs. Buela P. Cooke (nee Barlow), NSW |
Military History

Cooke enlisted in Melbourne. He was appointed Lieutenant with the Australian Aviation Corps 1915 (Sunday Times Sydney 21.3.1915) and appointed 2nd Lieutenant 33rd Engineers (Sunday Times 24.5.1915) when he gained his Aviator's Certificate at Bristol Biplane Flying School at Werribee, Victoria on 20.5.1915 and announced 23.7.191.5 (Graces Guide Certificate). He was appointed 2nd Lieutenant to the Australian Flying Corps (Argus. Melb. 6.7.1915) Cooke then transferred to the Imperial Flying Corps in England.
Embarked in Melbourne with his wife for the UK to join the Imperial Flying Corps (Sunday Times 19.12.1915).
Did not serve with Australian Imperial Force.
Embarked NK.
Returned/Disembarked Sydney date NK.
Final Rank NK.
Medical Condition NK.
Awards and Medals British War Medal, Victory Medal. Others not located.
Notes Cooke was the son of William and Jessie Cooke. His father was Government Astronomer in Sydney at the time of his enlistment and professor of Astronomy at the University of NSW and had previously worked in Perth. WA for 16 years as Government Astronomer (Daily News 1.10.1913) (World News Sydney 6.2.1926) He was married in July 1915 to Miss B.P. Barlow (Sunday Times Sydney 21.3.1915). He died 24.11.1972 in NSW (NSW State Records-probate packets).
Photo Lionel Ernest Cook 1915 . Photgrapher unknown, photgraph source AWM DAD0007
Lionel Ernest Cook at the Central Flying Schoo Werribee, Photographer unknown, photograph source AWM DAD0015
Information Source
AWM DAD0007. Lionel Ernest Cooke, Photographer unknown, photograph source from the Pictorial Collection of the Australian War Memorial
AWM DAD0015. Lionel Ernest Cooke at the central Flying School Werribee. Photographer unknown, photograph sourced from the Pictorial Collection of the Australian War Memorial
Argus Melbourne
Daily News
Graces Guide www.gracesguide.co.uk/1915_Aviators_-_UK
Guildford Grammar School Honour Roll
NSW State Records, Series: 4-745794, Item: probate packets Lionel Ernest Cooke
Sunday Times Sydney
World News Sydney NSW

Sydney, NSW.



Associated Images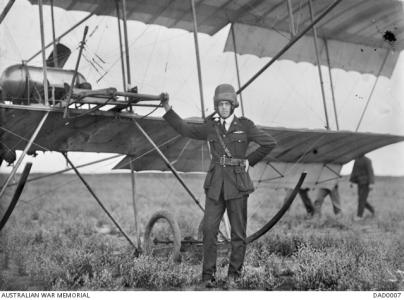 2nd Lieut. Lionel Ernest Cooke at the central Flying School Werribee,Vic. c1915. Photo source AWM DAD0007