Anzac Profile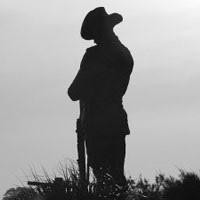 Educational Interest
Campbell,
William Home
Lance Corporal. 10th Light Horse. SN 1006. Returned 4.8.1919.
9 Terrace Road, East Guildford, WA
| | |
| --- | --- |
| Date Enlisted | 01/02/1915 |
| Service Number | SN 1006 |
| Age of Enlistment | 19 years 6 months |
| Place of Enlistment | Blackboy Hill, WA |
| Place of Birth | Geraldton, WA |
| Previous Military Experience | Nil |
| | |
| --- | --- |
| Occupation | Farm Labourer |
| Marital Status | Single |
| Religion | Presbyterian |
| School Attended | NK |
| Address History | 9 Terrace Road, East Guildford, WA. Father - William Home Campbell |
Military History
Embarked Fremantle per HMAT 'Karoola' for Suez 25.6.1915.
Roll Rank Private.
Roll Unit 6th Reinforcement 10th Light Horse.
Campbell disembarked in Egypt with the 6th Reinforcement of the 10th Light Horse. After a short period of training, he entrained for Alexandria with his unit and joined the Mediterranean Expeditionary Force for Gallipoli. Campbell was taken on strength with his unit at Gallipoli Peninsula 2.10.1915. In December the Australian troops were evacuated from the Peninsula and Campbell was transported to Mudros. From here he was transferred per HT 'Karoo' for Alexandria 26.12.1915 and marched out to Serapeum 26.2.1916.
Campbell developed a septic arm in the field was transferred to the 3rd Light Horse Field Ambulance, Malta then to the No 2 Casualty Clearing Station 12.12.1916. He was diagnosed with bursitis. On recovery he rejoined his unit 13.12.1916 and was promoted to Lance Corporal 17.1.1917. Campbell was wounded in the field in the Second Battle of Gaza 19.4.1917, with a gunshot wound and shrapnel in his left leg. (Reported West Australia Newspaper 10.5.1917). He was hospitalized at the 4th Australian General Hospital in Abbassia 24.4.1917. On discharge from Hospital, he rejoined his unit and was taken on strength at Moascar 29.4.1917. Campbell was promoted to Lance Corporal 19.6.1917, to Corporal 19.7.1917 and to Temporary Sergeant 11.12.1917. He was admitted to the 24th Stationary Hospital with tachycardia 9.4.1918 and promoted to Lance Sergeant 18.4.1918. Campbell was transferred to Rest Camp at Port Said 6.5.1918. Following his discharge, he was taken on strength at Moascar 22.5.1918 and marched out to the 3rd Light Horse Training Regiment. He embarked for Tripoli from Kantara 22.12.1918 and marched in to the Australian HQ at Cairo 24.4.1919. He was promoted Temporary Sergeant 5.7.1919 and listed for return to Australia.
Embarked Kantara per HMAT 'Oxfordshire' for Australia 10.7.1919.
Returned/Disembarked Fremantle 4.8.1919.
Discharged 3.10.1919.
Final Rank Lance Corporal, 10th Light Horse.
Medical Condition NK (Previous wounds and illness)
Awards and Medals 1914-15 Star, British War Medal, Victory Medal.
Notes Campbell married Dorothy Margaret Bradford Cornish in 1928, age 31years.They had 4 children.
Photos Hospital Ship 'Karoola'. Photographer unknown, photograph source AWM P03968.001

Information Source
AWM P03968.001. Hospital Ship 'Karoola'. Photographer unknown, photograph sourced from the Pictorial Collection of the Australian War Memorial
Australian War Memorial Embarkation Roll- William Home Campbell
Guildford War Memorial
National Archive Australia: B2455, Campbell W H 1006
West Australian Newspaper
Wise H. and Coy. Western Australian Post Office Directories


9 Terrace Road, East Guildford, WA.
Associated Images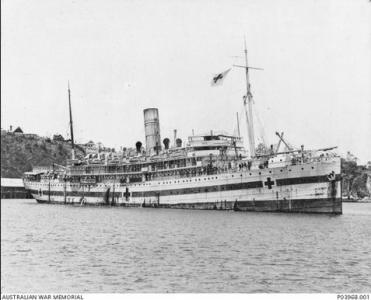 Hospital Ship 'Karoola'. Photographer unknown, photograph source AWM P03968.001