Anzac Profile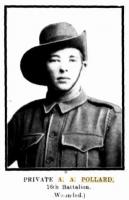 Educational Interest
Pollard,
Arthur Albert
T/Sgt. 16th Bn. SN1513. Returned. 24.7.191.
6 Helena Street, Guildford, WA
| | |
| --- | --- |
| Date Enlisted | 17/11/1914 |
| Service Number | SN 1513 |
| Age of Enlistment | 19 years 7 months |
| Place of Enlistment | Blackboy Hill, WA |
| Place of Birth | Guildford, WA |
| Previous Military Experience | Senior Cadets for 15 months. 2nd Reinforcement 16th Bn |
| | |
| --- | --- |
| Occupation | Trade Fitter/ Fettler |
| Marital Status | Single |
| Religion | Church of England |
| School Attended | Guildford State School |
| Address History | Father - Thomas Pollard, 6 Helena Street, Guildford, WA |
Military History
The 16th Bn. was raised 6 weeks after the declaration of war. Pollard enlisted 2 months later. With the 13th,14th and 15th Bns., they formed the 4th Australian Division Bde. under Colonel Monash.
Embarked Fremantle per HMAT 'Itonus' A50 for Egypt 22.2.1915.
Roll Rank Private.
Roll Unit 4th Division, 16th Infantry Battalion.
The 16th Bn. disembarked in Egypt and transferred to Alexandria to join the Military Expeditionary Force (MEF). They embarked for the Gallipoli Peninsula to reinforce the existing ANZAC troops. From May to August 1916 the Div. fought to retain the frontline of the ANZAC Beach Head and Hill 971. Pollard was involved in these battle and became one of the many casualties.
He was wounded in action at Gallipoli- with a bullet wound to Shoulder 1.5.1915. He was transferred by HS to England and admitted to the 2nd Western General Hospital 20.5.1915. After discharge he was transferred to the Australian and New Zealand Base Depot, Weymouth for No. 4 Draft. Pollard returned to Egypt with MEF 2.9.1915. He rejoined his unit at Mudros 18.9.1915. There is no information to confirm if he continued on to Gallipoli or remained at Mudros for several months. Pollard embarked at Mudros per HMT 'Ascanius' and was evacuated back to Egypt. He disembarked at Alexandria 30.12.1915. Whilst in Egypt he was promoted to L/Cpl. at Serapeum 5.4.1916.
The members of the 16th Bn. proceeded to Alexandria to join the BEF and embarked for France 1.6.1916. Pollard disembarked at Marseilles 9.6.1916. He was admitted sick to Hospital 21.3.1917. Pollard rejoined his Unit 4.4.1917 and his Bn. 5.4.1917. The 16th Bn. fought at Pozieres in July and August 1916. In 12 days the 4th Division suffered 6,848 casualties (Battle of Pozieres Wikipedia). Pollard was wounded in action in the Field (2nd time) with a GSW to his right leg 5.8.1917. He was taken by 4th Field Ambulance to the Casualty Clearing Station 4.8.1917. He was transferred to Etaples and then invalided to England 8.8.1917. He was admitted to Chelmsford Hospital with a shell wound to his right thigh 9.8.1917. Pollard was transferred to the 3rd Auxiliary Hospital at Dartford and then to the Training Depot at Sandhill Camp, Codford. He proceeded overseas to France via Southampton 2.11.1917 and rejoined his Unit in the Field 28.2.1918.
Pollard was wounded in action (3rd time) 28.3.1918 in the Allies 100 Days Offensive. He suffered severe GSWs to his right leg and both arms (Reported West Australian Newspaper 2.1918). He was taken to 56th Casualty Clearing Station 28.3.1918 and transferred to 18th USA General Hospital at Camiers. Pollard was invalided to England by HS 'Ville de Liege' 2.4.1918. He was admitted to Southwark Military Hospital in East Dulwich, London SE. He transferred to the 1st Auxiliary Hospital at Harefield 29.4.1918. Pollard marched in to Camp at Sutton Veny. He contracted influenza and was admitted to Hospital 16.6.1918. Pollard went AWOL for four days and was awarded a forfeiture of pay and returned to France. He rejoined his Unit 4.9.1918 and was promoted to T/Pioneer Sgt. He was listed for return to Australia 25.10.1918 and marched out from France for the UK 8.12.1918. Marched out from Hurdcott 14.4.1919 for return to Australia.
Embarked for Australia per 'Ormonde' with wife 24.7.1919.
Returned/Disembarked Fremantle 24.7.1919.
Discharged 22.9.1919.
Final Rank T/ Sgt. 16th Infantry Bn.
Medical Condition NK (wounded 3 times)
Awards and Medals 1914-15 Star, British War Medal, Victory Medal.
Notes Married Helena Maude Wilson in Manchester England 17.12.1918.
Photos Western Mail 9.7.1915 p4s
Troops being towed ashore at Gallipoli April 1915. Photographer unknown, photograph source AWM A02781
Casualty Clearing Station on the Beach, Anzac Cove,Gallipol 1915. Photograph donor T.Yeomans. Photograph source AWM A05763
G01534. Pozieres under German bombardment. Photographer unknown, photograph sourced from the Pictorial Collection of the Australian War Memorial
Australian Artillery passing through a captured section of the Hindenburg Line, Oct. 1918. Photographer unknown, Photograph source AWM E03506

Information Source
AWM A02781. Troops being towed ashore at Gallipoli April 1915. Photographer unknown, photograph sourced from the Pictorial Collection of the Australian War Memorial
AWM A05763. Casualty Clearing Station on the Beach, Anzac Cove,Gallipol 1915. Photograph donor T.Yeomans. Photograph sourced from the Pictorial Collection of the Australian War Memorial
AWM E03506. Australian Artillery passing through a captured section of the Hindenburg Line, Oct. 1918. Photographer unknown, photograph sourced from the Pictorial Collection of the Australian War Memorial
AWM Embarkation Roll Arthur Albert Pollard
Battle of Pozieres http://en.wikipedia.org/wiki/Battle_of_Pozi%C3%A8res
Guildford Primary School Honour Roll
Guildford War Memorial
NAA: B2455, Pollard Arthur Albert
St Matthew's Honour Roll
West Australian Newspaper
Western Mail
Wise H. and Coy. Western Australian Post Office Directories. SLWA

6 Helena Street, Guildford, WA. (Home not extant)
Associated Images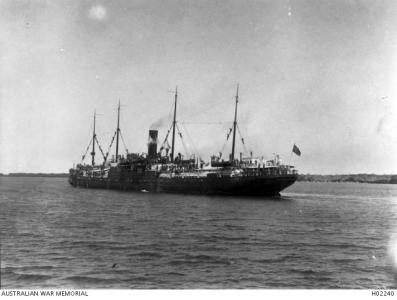 HMAT 'Itonus'. Photographer unknown, photograph source AWM H02240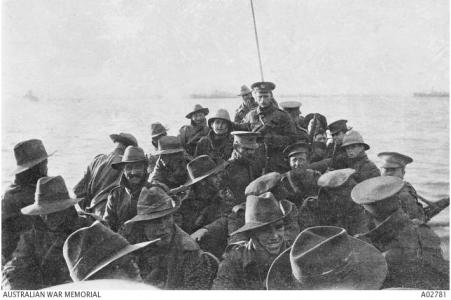 Troops being towed ashore at Gallipoli April 1915. Photographer unknown, photograph source AWM A02781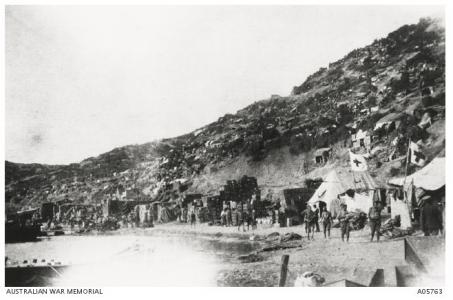 Casualty Clearing Station on the Beach, Anzac Cove,Gallipol 1915. Photograph donor T.Yeomans. Photograph source AWM A05763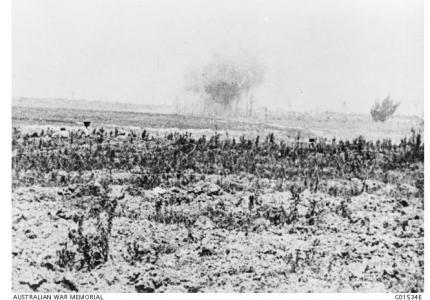 Pozieres under German bombardment. Photographer unknown, photograph source AWM G01534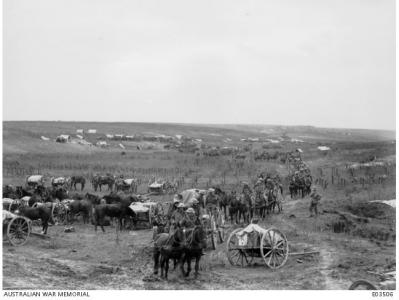 Australian Artillery passing through a captured section of the Hindenburg Line, Oct. 1918. Photographer unknown, Photograph source AWM E03506